Giants will be a Dynasty for a Decade
I'm proud to introduce our next guest blogger, Devon Luongo.  When we were doing our 30 Teams, we asked some friends for their take on their favorite teams.  It took Devon over a month but here's his take on the Giants' outlook for 2011… .and beyond
Last year the San Francisco giants won the cactus league, then they won the world series. While the pundits and analysts on the east coast spend last October felating Cliff Lee, Roy Halladay, and the big bats from the AL, the boys from the bay were busy winning the World Series. Fast-forward to today, the baseball world is buzzing about Roy Halladay and Cliff Lee and the rest of the Phillies overrated pitching staff. The Red Sox made big moves adding Carl Crawford and Adrian Gonzalez to create a monster lineup. Meanwhile what have the Giants been up to? Nothing much it seems. They released Juan Uribe and picked up Miguel Tejada. They added Brandon Belt, a rookie "big bat" that no one had even heard of 2 years ago. Oh, and they won the cactus league.
Today everyone has grown obsessed with statistics. Which pitching staff has the lowest WHIP? What do the saber metrics say about Derek Jeters' range at shortstop? How much is Albert Puljos' WAR worth paying for? News coverage of the baseball world in the offseason is centered around free agent acquisitions, as if to say, "If you don't sign 2 or 3 marquee players in the offseason you might as well kiss your playoffs hope goodbye."
But, what about the 2010 San Francisco Giants? How did they win the World Series? How did they beat Roy Halladay and Cliff Lee twice? How did they manage to avoid the Texas Rangers scorching hot bats? Everyone has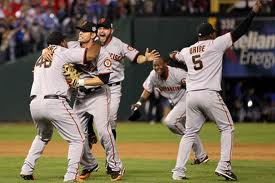 pretty much resigned to the fact that it was a fluke. A band of misfits. A group of unwanted players that had the luckiest 3 weeks of their lives. They don't stand a chance to repeat. They're just a group of players too old to compete, too stoned to keep their velocity up, too fat to play third base. That is certainly a plausible answer.
Although, maybe there is another answer…. Those of us that watched the San Francisco Giants day in and day out saw something different–something special. We saw an honest to God team. Not a group of high paid free agents. Not a bunch of superstars. We saw a group of guys that loved each other on and off the field. A bunch of players who fought and scrapped and cheered for one another, who picked each other up when they were down.
Barry Zito did nothing to live up to his contract. He got cut from the playoff roster. But he cheered harder in that dugout for the guy that took his starting spot than I did for him in the stands. Pablo Sandoval lost his starting job after a monster rookie campaign. Aaron Rowand, the captain of the team was replaced by a 32 year old, career minor leaguer with ADHD. Nobody ever complained. Nobody requested a trade. In fact, it was quite the contrary. They embraced their limited role doing everything they could to help the team win in their limited at bats. This is an attitude, which, quite frankly, has been absent in Major League Baseball since before I was born.
What the Giants have become is the kind of team that my dad used to cheer for when he was walking uphill both ways to school in the snowy, unplowed streets of the Bronx. They are a team. I have spent the better part of the past decade berating GM Brian Sabien's questionable decisions on blogs, at local pubs, and at every dinner table I've sat at with anyone who will listen to me ramble about baseball. But, we have to give credit where credit is due. He managed to create something that has been missing in baseball since the 1980′s: genuine loyalty to a ballclub. Here is my bold prediction: the San Francisco Giants will be a dynasty for the next decade. Tim Lincicum, Buster Posey, Matt Cain, Madison Bumgarner, and Pablo Sandoval will never leave. They will form the core of a squad that will win championship after championship, Cy Young after Cy Young, make all-star team after all-star team, and retire as hall of famers. Look out boys. The boys from the bay aren't going away any time soon.
-Devon Luongo