The Best Tools in the Majors
Updated: December 26, 2011
There's a few baseball writers opinions who I give the utmost respect.  Anything Buster Olney writes I expect to be true.  Anything that Peter Gammons writes is treated with respect and Bill James is always smarter than I am.  With that said, Baseball America is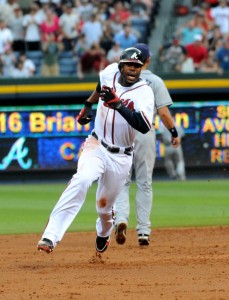 right there with this upper echelon of awesome baseball writing, but when I came across their article from 2010 on the Best Tools in the Game, I was less than impressed.  Its made up of the votes from managers, but senile guys like Jack McKeon probably got to vote (smile).  I'll do my own edition here with one rule: Nobody can win more than once.
Best Hitter:  Albert Pujols.  Next Question. In all seriousness, the idiots who think he's not the best hitter in the game anymore can stop reading.  He's had the best 10 year stretch of anyone ever and has finished in the top 9 in MVP voting every year he's been in the majors (even when he was 21). I'll concede that others had a better 2011 (I'd be dumb not to), but who do I want in my lineup?  The proven Pujols over guys like Bautista, Ellsbury, Longoria, etc.  BA Pick: Pujols
Best Power:  Strong cases can be made for Prince Fielder or Josh Hamilton or Ryan Howard or Adam Dunn, but I'm picking someone who may be a little less conventional.  To me this is between Justin Upton and Mike Stanton.  Upton hit a ball entirely too far in Arizona, but Stanton hit 4 balls over 460 feet this year.  The next highest total was 2 by Ryan Howard, Prince, and Upton.  BA Pick: Miguel Cabrera
Best Bunter:  This is kinda boring.  We'll save the analysis for something more fun.  The most bunt hits in 2011:  Juan Pierre with 23.  His success percentage was just 37.1.  So, maybe the best bunter is the guy with the best percentage: Jimmy Rollins who was 5 for 6.  Eh, it's Pierre.  BA Pick:  Ichiro.
Best Strikezone Judgement:  It's gotta be the guy with the most walks:  Jose Bautista.  Honorable mention to Adam Dunn and Joey Votto and Vlad, for recognizing that if you're truly awesome, the strikezone is only a suggestion. BA Pick:  Youkilis.
Best Hit and Run Artist:  Derek Jeter's only swing is a groundball at the second baseman.  Does this make him an artist? I'm taking Placido Polanco who can seemingly do anything with the bat.  BA Pick: Jeter.
Fastest Baserunner:  I've got to admit, I've never really seen Mike Trout run so, with that in mind and Joey Gathright basically off the radar, it goes to Michael Bourn. BA Pick: Bourn
Best Baserunner: Michael Bourn is incredibly, incredibly fast and since we have no repeats, I'm going off the grid here.  Jason Heyward.  Heyward is an incredible baserunner who goes first to third with great frequency and advances to second on singles quite often.  Watching the guy play the game is a joy, now only to fix his swing. BA Pick:  Bourn
Most Exciting Player: Wow, could we have anything more controversial, or completely up to opinion.  I think the most exciting player when he steps in the box is Jose Bautista.  The award could go to a pitcher (JV?, Aroldis Chapman?, Strasburg?).  I think its the new Miami Marlin Jose Reyes.  Watching him run, field, and hit from both sides is quite the sparkplug for even the most boring of games.  I think we'll see him turn some heads with a new flashy uniform in a new exciting ballpark.  BA Pick: Pujols.
Best Pitcher: Justin Verlander.  For reasons click on one of these articles: Here or here.
Best Fastball:  105.1 is quite tempting, but so was Joel Zumaya's ridiculous run in middle relief.  The award could go to Michael Pineida, Justin Verlander, or Stephen Strasburg. I'm even tempted to go with Tim Lincecum because of the deception he creates with the pitch, but we're going to go with Jaimie Garcia.  Just Kidding.  Stephen Strasburg gets the nod even post Tommy John. BA Pick: Ubaldo
Best Curve: The most devastating curveball is probably Verlander's.  It's just not fair.  As far as break, the biggest is probably Jaimie Garcia.  The best:  the beer drinker himself, Josh Beckett.  Honorable mention to 2005 Barry Zito and 2009 Adam Wainwright. BA Pick: Wainwright
Best Changeup:  Again, Verlander's change is disgusting.  As is Strasburg's 90 mph "change."  Johan Santana has made his millions on the deception of his changeup, but the best in 2011 was Cole Hamels.  The fade on the pitch generated more than a few swing and misses to right handers and makes Cole belong in the same rotation as Halladay and Cliff Lee. BA Pick: James Shields
Best Cutter:  I put this on the list in an effort to give Halladay a win so that Cliff Lee could be the easy pick for best control.  Then I remembered there's a guy in New York who made up the pitch and is the best reliever of all time while throwing just the cutter.  Rivera. BA Pick if it was on the ballot: Rivera.
Best Control:  Roy Halladay.  It's between Halladay and Lee. You know those stretches where Lee gets lit up? It's because his command is a bit off.  You know those stretches where Halladay gets lit up? No? Right, it's because he doesn't have any.  The pick is Halladay.  BA Pick: Lee
Best Reliver:  Shit. I already gave the cutter award to Rivera and rather than rewrite that section, we'll pick another.  It's very simply not Brian Wilson or Heath Bell or Jon Papelbon.  Don't even pretend like Ryan Madson deserves $50 million.  K-Rod sucks.  John Axford has been good for exactly one year.  Bring on the flack: I'm picking Jonny Venters and you can't convince me otherwise.  He's pitched in 164 games over the past two years and posted a 1.89 ERA.  He's got a career 9.9 SO/9 and 1.146 WHIP.  These are just stupid numbers for a reliever.
Best Pickoff:  Mark Buehrle is good at more than making me look up how to spell his name every time, plus Andy Pettitte is retired.
BA goes on to pick the best defenders at a given position, but I did that last week except for all time. Give it a read and tell me how much you disagree with Andruw Jones as the pick for CF.