Season Preview Seattle Mariners
The Mariners were involved in one of the more intriguing deals of the offseason as they shipped their young, promising, hard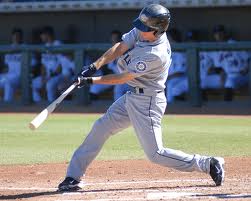 throwing righty (Michael Pineda) for a young power hitting "skill position" player (Jesus Montero).  Montero probably won't stick or play much behind the plate, but his defense should be the least of their worries in 2012.
Projected Lineup
Chone Figgins  (3B)
Dustin Ackley (2B)
Ichiro (RF)
Jesus Montero (DH)
Justin Smoak (1B)
Franklin Gutierrez (CF)
Mike Carp (LF)
Miguel Olivo (C)
Brendan Ryan (SS)
Projected Rotation
Felix Hernandez
Jason Vargas
Hisashi Iwakuma
Kevin Millwood
Hector Noesi
Strengths:
Projectable Rotation:  I really like the projected 2014 Mariners rotation.  As sad as that may sound, they'll have Felix Hernandez, Hisashi Iwakuma, Hector Noesi, Danny Hultzen (the No. 2 overall pick in last year's draft) and Taijuan Walker.  Walker is the guy on here that nobody has ever heard of, but we will going forward. According to Mark over at BPN and his list of the top fifteen prospects in the Mariner's system, "Walker is a scout's dream when it comes to right-handed pitchers… There's not much to dislike when evaluating Walker and every cliché about raw ceiling can be applied. The sky truly is the limit here."  You combine that with the projectability of the mantle full of Cy Young's that King Felix will have and that Hisashi Iwakuma looks like a long term No. 3 starter, and Hultzen looks good.   Suffice it to say pitching shouldn't be a problem in 2014 and I really don't think this team is going to regret the Michael Pineda trade.
At least they're not the A's:  The Mariners at least pretend like they're trying to win soon by being in the conversation for Prince Fielder, and appear to be trying to win eventually.  They're not going to compete this year but the people in charge seem to have their heads on straight.
And so ends my being nice to the Seattle Storm. Wait, Seattle Mariners.  The Storm is the WNBA team in Seattle.
Weaknesses:
I really don't see any weaknesses on this 2012 roster.
It's hard to see any non-weaknesses on the roster…. remember my two strengths were that 1) in the future they could or likely will have a good rotation and that 2) they're not completely clueless. But, in all seriousness….
On-Base-Percentage:  Of their 9 projected everyday guys in the lineup, 5 of them have career OBP percentages under .316.  Consider that 6 active players have batting averages of at least .316.  The list doesn't even include Jesus Montero who has exactly 61 career at bats or Ichiro, who had a .310 OBP last year.
Kevin Millwood:  Millwood is bad.  He's had at least a 5.00 ERA in 3 of the last 5 years.  He's just not good.
Miguel Olivo: Anyone wanna guess Olivo's career OBP? Or WAR?  I'm guessing none of you care enough to do that, but Olivo is the Mariner's full time catcher this year so Mariner's fans have a .279 OBP and 0.6 WAR to look forward to.
Who is Kyle Seager?
Storylines: 
Felix and Ichiro: The two best players on the team are marooned on a loser in Seattle. Will they be able to maintain focus or will three years of futility wear them down? When do they consider moving to Cuba?
The Prince Fielder Money:  When the Mariners threw their hat in the ring at Prince Fielder, it signaled that they have some money to spend.  I like this.  The 2012 free agent class is a good one that could potentially include Josh Hamilton, Michael Bourn, B.J. Upton, and Shane Victorino.  A big signing next year could position the offense to actually contribute once these promising young pitchers are ready.
Prediction:
74-88, 3rd Place, NL West.  The Mariners have an idea for what they want to accomplish, but they aren't good this year.  Especially with the Angels and Rangers being quite good.
Bold Predictions:
Ichiro hits either .311 or .274 with 19 homers
Dustin Ackley is an All-Star
Eric Wedge grows the best Fu Manchu that this country has ever seen.
Justin Smoak stops playing games because he's addicted to Skyrim.  When asked about it, Eric Wedge simply says "He's a level 74 Argonian.  I understand if he wants to sit out a game or two."
Franklin Gutierrez (.302 career OBP) is traded to the Astros to make room for TrayVon Robinson in center.