San Diego Padres Season Preview
The Padres enter this season in the wake of a 91 loss, last place finish in 2011. This winter,  they traded away their top pitcher, a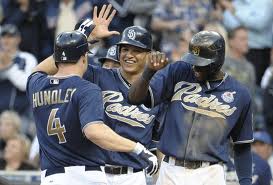 move that really had to be done, and they got a pretty good haul for him. However, the team still seems to lack direction and something tells me that if the Padres' biggest acquisition was Carlos Quentin, fans are in for a long summer.
Projected Lineup
 Cameron Maybin (CF)
Orlando Hudson (2B)
Carlos Quinten (LF)
Yonder Alonso (1B)
Chase Headley (3B)
Will Venable (RF)
Nick Hundley (C)
Jason Bartlet (SS)
Projected Rotation
Tim Stauffer
Edinson Volquez
Corey Luebke
Clayton Richard
Dustin Mosely
Strengths
Bullpen: The one thing the Padres have consistently supplied over the last decade is a solid bullpen. Even though Heath Bell and Mike Adams left, Andrew Cashner's electric stuff and Huston Street's solid numbers (8.49 K/9, 1.39 BB/9, and 1.54 HR/9) will both do well in pitcher-friendly Petco.
Cameron Maybin: If there is one potential superstar on a team filled with average major leaguers and fading veterans, its Cameron Maybin. After signing a 5-year $25 million deal, he looks to become the face of the organization. He was the team's MVP in 2011 hitting .264 with nine homers and 40 RBIs and stole 40 bases in a career-high 137 games. He's only going to get better at the top of the order with more at-bats and a more consistent lineup behind him. He remains solid defensively and will probably be the team's lone All-Star.
New Uniforms: Some would say they look like an actual baseball team nowadays. No more sand color, and finally some consistent font size. Also the Sunday camo's remain the greatest alternate uniforms in baseball.
Weaknesses
Starting Pitching: When Tim Stauffer is your ace, you just know you're bad. A 9 and 12 record with 128 strikeouts last season fails to bring the same kind of excitement Peavy and Latos would have brought every 5th day. Although a lot of talk out of Spring Training and in Fantasy Baseball predictions has promised that Corey Luebke is going to have a breakout season (his strikeout to walk ratio is kind of awesome), he is still just an average big league starter at best. Volquez was good in the first half of '08 when he was an All-Star but has not been consistent since. Richard has potential but always seems to be a high injury risk. Even in Petco, this staff won't outperform anybody.
Overall Leadership: The Padres' largest problem is a clear lack of direction. There is no plan in place for the team's future. Although moving Adrian Gonzalez and Mat Latos was inevitable and necessary, where does the organization stand afterwards? Anthony Rizzo was supposed to be the team's savior last season and replace A-Gon, but he failed to produce consistently in the big leagues and was traded to the Cubs for Cashner. That's a downgrade from one of the best hitters in the game to an 8th inning reliever. Absurd. The offseason also brought on veterans Carlos Quentin and Mark Kotsay. A small-market team like the Padres that continues to trade elite talent for once-well-known-names should be investing instead in a real foundation. The Latos trade brought in a bevy of potential talent in Yonder Alonso, Yasmani Grandal, and Brad Boxberger, but there still doesn't seem to be the guy to build the team around. The constant mediocrity in San Diego will continue as long as the organization relies on average starting pitching and aging veterans, and quickly ships its young talent that doesn't immediately perform.
Prediction:
73-89, last place, NL West. This team just doesn't have the fire power to compete with the other teams in this division. It's not an overly strong division so there is a chance that we could be surprised, but I don't see it.
Bold Predictions
Cameron Maybin hits 24 homeruns
Bringbackthebrown.com petition campaign succeeds in getting the 10,000 signatures needed for the Padres to officially readopt brown and orange as the official team colors.
San Diego sports writers are guaranteed to use the "pitcher-friendly-Petco-park" excuse after Carlos Quinten goes 0 for 4 in his Padre debut.
-Kyle Casey, Guest Writer