The 2012 Rockies appear quite the same as their 2011 counterparts at first glance.  Some of the names and faces change as with any
roster turnover, but there's some reason to be excited in Colorado this summer as management emphasized high-character guys in bringing in Marco Scutaro and Michael Cuddyer.  But, how are these "nice guys" going to fair against the flair in Arizona or the pitching in San Fran?
Projected Lineup
Dexter Fowler (CF)
Marco Scutero (2B)
Troy Tulowitzki (SS)
Carlos Gonzalez (LF)
Michael Cuddyer (RF)
Todd Helton (1B)
Casey Blake (3B)
Ramon Hernandez (C)
Projected Rotation
Jorge De LaRosa (when he's back from Tommy John…. in August?)
Jeremy Gutherie
Jhoulyz Chaucin
Jason Hammel
Drew Pomeranz
Tyler Chatwood
Strengths:
Carlos Gonzalez is really, really talented.  Last year was a down year for the Left Fielder and he still hit .295 with 26 homers and 20 stolen bases.  His .889 OPS was good for 22nd in the Majors and ranked above guys like Robinson Cano and Josh Hamilton.  He plays a solid left field and I expect big things out of CarGo this year.
Troy Tulowitzki is the arguably the best shortstop in the game right now and he's a monster in the middle of their order.  Combine Tulo and Car-Go and the Rockies have a very good 3-4 combo.  Tulo's 2011 line of .302/.372/.544 and 30 homers and 105 RBI's very simply did not get enough recognition.  Neither did his 14th in the Majors WAR total.
Weaknesses:
The entire pitching staff.
Jorge De LaRosa was their projected Opening day starter and that doesn't scare me nearly as bad as the guy (Jhoulys Chaucin) now in line for the job.  De LaRosa was putting together a fine 2011 until he was bit with the three words a pitcher never wants to hear (Tommy John surgery).  Now, Chaucin and his ridiculously hard name to spell is the de facto numero uno.  Also, it's noteworthy that Jason Hammel has to be happy that he managed to get his career ERA under 5 last year (it's at 4.99 now).
When Rafael Betancourt is penciled in as your closer, you're asking for trouble.  Take this little stat for what it's worth: Betancourt has 27 career saves in 60 career opportunities.  That's good for a whopping 45% conversion rate!  Jim Tracy better keep track of his tums.
Storylines:
Develop the Pitching:  I'm still not entirely sure why the Rockies traded away Ubaldo last year, but the move netted Drew Pomeranz who has a chance to be a good pitcher for them this year.  Tyler Matzek was once thought of very highly in the baseball industry and he's still up there as far as talent.  I wouldn't be too surprised to see him in the bullpen by the end of the year.  The problem is that none of the other guys in the Rockies system (Major League or not) project to be anything especially noteworthy.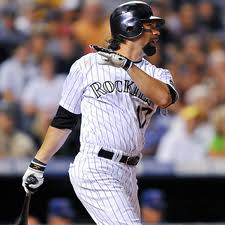 Clubhouse Chemistry:  The GM out there in Colorado has emphasized clubhouse chemistry (evidently over talent and upside).  Let's see if his approach works as Michael Cuddyer (age 32), Casey Blake (38), Todd Helton (38) and Ramon Hernandez (35) try to stay motivated throughout the long days of summer.
Coors Field has lost its magic and I'm intrigued to see if the people in Colorado get bored with this team and start to avoid the games.
Prediction:
79-83, T-3rd place, NL West.  I just don't see this team having the pitching to be above .500, but CarGo and Tulo will keep them in the hunt and those vaunted clubhouse guys will keep the team playing hard throughout the summer.  We wrote this last year about them and I couldn't agree more again in 2012…."3rd place seems to be calling their name nearly as loud as a spot on the couch to watch the playoffs."
Bold Predictions:
Carlos Gonzalez is second in the NL MVP voting after hitting .328 with 41 homers and 29 steals. The voters inexplicably vote for Ryan Braun again over the more deserving outfield candidate.
Eric Young has 30 steals.  It's Bold because to date Young has 427 career at bats.
After loosing the MVP, CarGo announces his retirement and moves to Australia with Ricky Williams.
Jhoulys Chaucin (I didn't look up how to spell his name this time) has a 1.51 WHIP and a worse 2012 than Carlos Zambrano had in 2011 (4.82 ERA, 145 IP)
And Now for Something Completely Different….
Do you have trouble with your thyroid?
We need more citizens of humanity.  No wait, that was the something for the ladies.
This is weird to me.
And read the blog.
-Sean Morash