Chicago Cubs Season Preview
A new era has begun on the North Side. Theo Epstein is the new team president, Jed Hoyer is his new right hand man and GM, and Dale Sveum is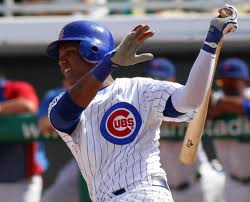 their hand picked choice for manager. On top of that, Carlos Zambrano is now longer a Cub. However, Chicago will continue to tread water until some of their bad contracts come off the books (cough, Alfonso Soriano, cough) and Theo has the financial room to do what he wants. This season, the team is weak,  Matt Garza and Starlin Castro are the only two on the roster worthy of a spot on any fantasy baseball team. At best, this is a fourth place team, at worst, it could finish 5th in the NL Central.
Projected Lineup:
David Dejesus (Rf)
Starlin Castro (ss)
Marlon Byrd (Cf)
Bryann LaHair (1b)
Alfonso Soriano (Lf)
Geovany Soto (C)
Ian Stewart (3b)
Darwin Barney (2b)
Projected Rotation:
Matt Garza
Ryan Dempster
Paul Maholm
Travis Wood
Jeff Smardzija
Strengths:
Front Office: Theo Epstein and Jed Hoyer are bright. They both have proven track records and the are both committed to making the Cubs a winning franchise. The future is bright.
Castro: The Cubbies have perhaps the best young shortstop in baseball. Outside of Troy Tulowitzki, Castro might be the most desirable short stop in the game. He's only 22 years old and already has 2 .300 plus batting seasons on his resume. He doesn't have much power but he had over 200 hits last year and he's definitely a guy you can build around.
Weaknesses: 
Closer: Carlos Marmol is one of the worst and least reliable full time closers in baseball. His ERA last year was over 4, just terrible fro a closer and he blew 10 of his 44 save opportunities.
Lineup depth: They have none. Outside of Starlin Castro, no one in this lineup is in the right spot. David Dejesus was good but should no longer be the leadoff hitter on a good team, Marlon Byrd is a quality major league 6 hitter but has no business batting 3rd. Bryan LaHair was great in AAA last year batting over .330 with 38 homers an 109 RBIs but there's no way that he can be expected to bat fourth effectively on a major league team against the likes of Adam Wainwright, Roy Halladay, and Cliff Lee. Darwin Barney should not be a major league starter. No pitcher should be afraid of this lineup.
Storylines:
Will the fan base be patient with Epstein during this inevitable down year and give him the time he needs to build a winner?
What happened to Alfonso Soriano? I can't think of another example of someone with so much talent having his skills erode so quickly. He and Zambrano have literally been smothering this franchise with their contracts.
How will rookie manager Dale Sveum fare in his first season at the helm?
Prediction:
78-84, 4th place NL Central. The Cubs are very simply not there yet. They are far inferior to the Cardinals, Reds, and Brewers. They will have to fend off the Pirates just to snag 4th.
Bold Predictions:
Starlin Castro will start the All-Star game for the NL
Jeff Smardzija will win 11 games with an ERA under 3.4
Matt Garza will be traded by July 1
Carlos Marmol will walk more batter than innings pitched this season