St. Louis Cardinals Season Preview
The St. Louis Cardinals are the reigning world champion and were the story of 2011.  The problem is that it is 2012 and the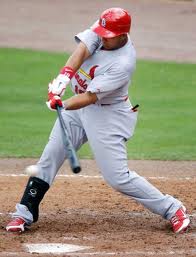 Cardinals two most noteworthy members are retired (Tony LaRussa) and now on the Angels (Albert Pujols) and repeating will be a challenge.  That said, all is not lost in St. Louis as this club still has many of the pieces required to compete for a playoff spot.
Projected Lineup:
Rafael Furcal (SS)
Carlos Beltran (RF)
Lance Berkman (1B)
Matt Holliday (LF)
David Freese (3B)
Yadier Molina (C)
Jon Jay (CF)
Tyler Greene (2B)
Projected Rotation:
Chris Carpenter*
Adam Wainwright
Kyle Lohse
Jaime Garcia
Jake Westbrooke
Strengths:
Depth:  Both in their lineup and in the rotation, the Cardinals are a deep club.  I really like that Jaime Garcia is their 4th starter and that the talented Jon Jay is their 7 hitter.  Their depth will be challenged as Chris Carpenter is out indefinitely with a bulging disk, but I maintain the Cardinals will be better for it.  Their lineup has no superstar, but their 1-7 hitters are legitimate above average Major Leaguers.
Molina:  The brothers Molina are great defensive catchers all around and anyone who has ever played the game can vouch for the effect that a quality defensive catcher can mean for a team (even if sabermetricians can't).  Yadier also happens to have developed into an above average offensive catcher and  as a result was paid handsomely this winter.  What Molina does for this pitching staff in receiving pitches, calling a game, and throwing out runners is irreplaceable.
Weaknesses:
I never made a secret of my contempt for Tony LaRussa, but it may just be for the Cardinals in general as I really find it easy to light them up.  So here we go:
Matt Holliday was never that good, and still isn't.
Lance Berkman is old
Rafael Furcal should have retired two years ago
David Freese is entirely unproven
Jon Jay is named after a politician. AKA he can't be good at baseball. Only 2 players with the last names of Washington, Lincoln, Roosevelt, Bush, or Adams have ever been named to an all star game.
Carlos Beltran used to be a Met
Tyler Greene doesn't need me to tell him he's subpar
Yadier Molina is overpaid
Matheney: It's going to be hard living up to Tony La Russa's legacy in STL and naming Kyle Lohse your Opening Day starter as the first decision you've made as a manager in a game that matters is not a good start.
There's other weaknesses I'd like to highlight but those seem to be the big ones.
Storylines:
Life without Pujols: This is the first season in over a decade that Albert Pujols is not the centerpiece of a St. Louis offense. Will the team be able to repeat their success from last year without the biggest bat in baseball?
Starting rotation health: Adam Wainwright missed all of last year rehabbing from Tommy John surgery. Chris Carpenter is having back/neck issues this spring training. He's already missed some starts and practices and he will miss his scheduled opening day start. Manager Mike Matheney has decided to go with Kyle Lohse for the first game, that can't be good. If the top two for the Cards can't stay healthy and produce, this team is sunk.
Prediction:
88-74. 2nd place NL Central. Despite the loss of Pujols, this is still a good team It is not, however, a great team and will finish in second by a couple games.
Bold Predictions:
Carlos Beltran will hit .274 with 19 homers
Lance Berkman will hit .284 with 21 homers
Chris Carpenter won't make more than 18 starts
Adam Wainwright will finish 7th in the Cy Young voting
John Jay will emerge as one of the top young center-fielders in baseball