2012 will be the very last season that the Houston Astros are a National League team. This time next year (if the Mayans don't blow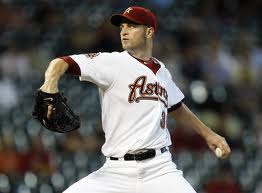 up the world) the 'Stros will be preparing for life with a DH. The only thing though, this year the Astros are basically guaranteed to be the absolute worst team in the NL. Their best player (Carlos Lee) hasn't actually been good for 2 years and their best starting pitcher (Brett Myers) is a closer. I have a sneaking suspicion that there are more than a few AAA teams that could give Houston a run for their money. Without further ado:
Projected Lineup:
Jordan Schafer (Cf)
Jose Altuve (2b)
J.D. Martinez (Lf)
Carlos Lee (1b)
Brian Bogusevic (Rf)
Jed Lowrie (ss)
Chris Johnson (3b)
Jason Castro (c)
Projected Rotation:
Wandy Rodriguez
JA Happ
Bud Norris
Jordan Lyles
Kyle Weiland
Strengths:
The season is only 162 games long. The law of probability says its really unlikely that the Astros loose all of them.
JA Happ is pretty decent and Wandy Rodriguez used to be pretty good.
Weaknesses:
Ok, so I follow this stuff pretty closely and I had to look up the first names for half this team's starting lineup. The Astros are atrocious. Four of their 8 starting position players have less than 110 games of major league experience. 3 have less than 100 games. 5 have less than 230 career games. The projected 3 hitter has 6 career homers. The starting catcher is a career .205 hitter. The projected 5 hitter has 4 career homers. The starting shortstop is a Red Sox cast off who can't stay healthy. Do I have to keep going? The only guy I like (JD Martinez, who Astros fans have an irrational affinity for, included) on the offensive side of the ball is third basemen Chris Johnson. He could actually be good. Otherwise, this team is bad.
Pitching wise, the Astros front office, in their infinite wisdom, took Brett Myers, the team's most reliable and effective starter, a virtual lock to eat 200 innings in the slow painful season that will be 2012 in Houston, and turned him into a 65 inning a year closer. You know, for the 8 save chances the team will inevitably have. Nobody understood that one.
Storylines:
Will any of these young players blossom this season and turn into a decent major leaguer?
How will JD Martinez continue to develop? Can he be a building block for the future?
Will Jed Lowrie finally live up to his potential and stay healthy long enough to produce?
What is Houston's plan for the post-Carlos Lee years?
Will new GM Jeff Luhnow be able to build something in Houston and how long will it take?
Prediction:
52-110, last place, NL Central. The Astros lost 106 games last year and that was with Michael Bourn and Hunter Pence for at least part of the season. This year, don't even have that luxury.
Bold Predictions: 
The entire starting lineup combines for 40 homers all season
Brett Myers has a 2.51 ERA with 9 saves and 1 blown save
They call off the Rangers-Astros interleague series so that the Astros aren't embarrassed in front of the whole state.
-Max Frankel