James Shields: Most Underrated Pitcher Out There
We've all heard the nickname of Tampa Bay Rays starting pitcher James Shields– Big Game James. It's really a poor nickname,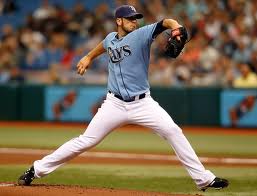 but I see where the right hander has turned himself into a big time, big game pitcher.  Quick quiz: Who finished third last year in the AL Cy Young?  James Shields.  The 30 year old from Newhall, California turned a corner last year and is ready to become the game's least talked about, most nasty-est pitcher (He's so nasty that when we do talk about him we make up words to describe him).  The reasons nobody cares about Big Game James? Well, there are many….
He only throws 91
Pitches in Tampa
Has a teammate named David Price who is more exciting to watch
He doesn't strike out alot of guys
Has a teammate named Matt Moore who is more exciting to watch
His best pitch is a changeup that doesn't do anything all that crazy
Has a teammate named Jeremy Hellickson who is more exciting to watch
Nonetheless, managerial guru Joe Maddon touted Shields as his Opening Day starter not because he was the oldest guy available or because he was buying into the moniker of Shields' performance on the big stage (Maddon's too smart for that).  James Shields was the 2012 Opening Day starter for the team with the deepest rotation on the planet because he is, very simply, the best pitcher on their team.  It feels like a bold statement when we're talking about a team with two of the most talented lefty's on the face of the planet (Kershaw's first, then CC, then Price and Moore? (Seems like a good idea for a post…)), and the guy who just won rookie of the year with a sub- 3.00 ERA.
It's still true though, James Shields is the ace of the Rays and he's the guy they hand the ball to when they need a win.  Last year Shields posted 11 complete games, which was the most for anyone since Randy Johnson in 1999 with the Diamondbacks.  Complete games is one of those stats that really does not matter, but it does mean the manager wants you out there so it is certainly not a bad thing.  Only 8 guys since 1999 threw more innings in any one season than Shields did in 2010 and he did all this while throwing a 2.82 ERA on the stat sheet in the loaded AL East which had the two highest scoring offenses in baseball and the sixth highest.
Maybe James Shields isn't the most underrated pitcher out there — he still has a 3.99 career ERA and has struck out over 200 only once.  However, Shields is going to give you 200+ IP as he has done in each of the past five years.  He's also capable of pitching the way he did in 2011 and if I had to bet, there is more than one team out there who wish they had James Shields on their team.  We'll soon find out as Big Game James could be a free agent next winter (team option) and almost certainly will be in the winter before 2014.