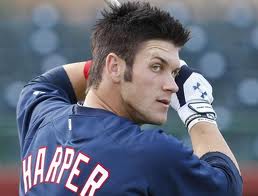 Washington Nationals outfielder Bryce Harper has made quite a name for himself since the time he was 16.  I remember seeing the copy of the Sports Illustrated in my mailbox that claimed this young kid from Arizona was baseball's LeBron James, Michael Jordan, Muhamad Ali, and Usain Bolt all wrapped into one.  He's a player so talented that despite his general arrogance, ridiculous haircut and swagger that annoys those within his organization sometimes, he  is impossible to ignore.  I've discussed Harper at length with my teammates and the general consensus is that he's a bit of a self-centered jerk who has some growing up to do, but should be really really good.  Well, Cole Hamels is trying to make him grow up a little quicker.
Said Hamels after the game:
I was trying to hit him. I'm not going to deny it. I'm not trying to injure the guy. They're probably not going to like me for it, but I'm not going to say I wasn't trying to do it. I think they understood the message, and they threw it right back. That's the way, and I respect it. They can say whatever they want. If I was getting swagger back for our side, I think I'd have to drill quite a few people because you're in their home ballpark. It's just, 'Welcome to the big leagues.' And I think he kind of did that for me.
Hamels' reference that Harper "Welcomed him to the Big Leagues" stems from Harper's steal of home.  Whatever you think of the 19 year old phenom who has generated an unparalled buzz seen from a teenager since (I'm guessing here) Ken Griffey Jr, the steal of home was a heads up, really good play.  I'm still much more concerned with Harper's attitude and Hamels' reaction.
The major qualm that baseball people have with Bryce Harper stems not from his talent, effort, energy or determination, but from his general personality.  To give  a better sense of just how little fun it is to be around Harper, there's this from Baseball Prospectus:
This should not be underrated. It's impossible to find any talent evaluator who isn't blown away by Harper's ability on the field, but it's equally difficult to find one who doesn't genuinely dislike the kid. One scout called him among the worst amateur players he's ever seen from a makeup standpoint, with top-of-the-scale arrogance, a disturbingly large sense of entitlement, and on-field behavior that includes taunting opponents. "He's just a bad, bad guy," said one front-office official. "He's basically the anti-Joe Mauer." How this plays into the negotiation or future evaluation is yet to be determined, as history has shown us that the bigger talent a player is, the more makeup issues teams will deal with. Bench players can't afford to be problems, but plenty of teams happily put up with difficult superstars.
I'm concerned for Harper as it seems few outside of those in his family or the guy between the ears truly likes him.  He will continue to get hit, continue to be national news and continue to upset opponents while he upsets the balance of baseball tradition.  New guys are supposed to make as few waves as possible when entering the Majors (case in point: Mike Trout).  Harper has made as many waves as possible and it's really very disturbing for veterans.  The way baseball works, and has allways worked, is that the veterans on his team will calm him down.  If they fail to do so, Mr. Harper better get used to bruises on his back, shoulders, and right side as Cole Hamels will be the first of many to send a message to the young gun.
Hamels knows how baseball works and accepted his own retaliatory plunking in the third inning with grace before proving to the Nationals and America that he's significantly better than everyone in the Nationals' lineup by blanking them across the next 7 innings.  Hamels' final line read 8 IP, 8 K's, 5 hits, 1 wallk, 1 HBP.
Bryce Harper better settle down in the Big Leagues because there's guys who throw alot harder than Cole Hamels throughout the league. I can only imagine what 105.1 feels like on the back… Bryce Harper may just find out as Aroldis Chapman and the Reds come to visit DC in a few days.
-Sean Morash