The Baltimore Orioles Are NOT For Real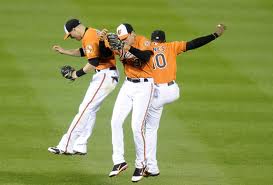 Baseball is a game of consistency. Over the course of a  grueling 162 game season, good players prove that they are good, bad players show that they are bad and teams do the same. Occasionally, you'll have a player like Adam Dunn have an uncharacteristically terrible year like he did in 2011 or someone come from no where to have a great season but for the most part, Albert Pujols will get to his normal numbers by season's end, despite any sort of slow start. Often times, guys like Albert will get just as hot in June as they are cold now and by September, all will be right with the world.  The same principle applies for the Baltimore Orioles. Frankly, they are the 5th best team in an excellent division and even though they have been playing great so far, everything will normalize over the course of the year and the O's will end up at the bottom of the standings just as everyone predicted. 
Robert Andino is batting .306 despite having a career average right around .250. Adam Jones is on pace to hit 43 homers despite his previous career high of 25. Jason Hammel currently has an ERA of 2.09. His previous career best over the course of a season is 4.33. Wei-Yin Chen, a rookie, is 2-0 with a 2.76 ERA through his first career 29.2 innings and, although he has looked great, especially against the Angels a couple weeks ago, once the league has seen him a bit more and there are thorough scouting reports, I'd be willing to say that his numbers will come back down to earth. That's the story with the entire Orioles team right now, they have a bunch of players playing to the peak of their abilities. In the case of some like Brian Matusz, they are finally playing up to their potential, others, like Andino, are clearly exceeding it. Matt Weiters has emerged as one of the best catchers in baseball, something the O's have been waiting for him to prove for years. He currently has a .588 slugging percentage, easily a career best and a full 138 points over what he posted in his All-Star season last year. Problem is, you can't expect peak performance from such a large group of players all season long. Career number aren't just made up, they are a reflection of how good a major leaguer has been while he's played the game. While some will now and again have breakout seasons that change the course of their careers (a la Jose Bautista, and, the Orioles hope, Matusz and Jones) most players will play in line with the way they have proved to be able.
There is some precedent for teams coming from nowhere to have great seasons. Most recently, the 2010 San Diego Padres surprised the baseball world with 90 wins and a very narrow 2nd place finish in the NL West. If it wasn't for an insanely hot streak by the San Francisco Giants (the team that eventually won the World Series),the Padres would have won the division. There are many differences between that team and this Orioles team. First and foremost, the level of competition. The Padres beat out and beat up on the Rockies, Dodgers, and Diamondbacks, three very weak teams. By contrast, the Orioles have to play the Yankees, Red Sox, and Rays, three of the strongest teams in the MLB. Even if you think that those teams aren't as good as many thought they were, and there is very good evidence for that, they are still above average teams with major resources (for the most part) that will do everything they can to win as many games as possible. At the very least, two of those three teams will win 90 games, and the O's would have to be better even than that.
Baltimore has played phenomenal baseball so far this season. Nothing should be taken away from for doing that. They have played and beaten some of the major's best already. But, over the course of a full season, things have a tendency to get back to normal. It is rare that we see a surprise team do what the Orioles are trying to accomplish this season. The other teams in the AL East are too good and many Os are playing well above their demonstrated abilities for this fun ride to sustain itself. Enjoy it while it lasts, Orioles fans, because it won't be here for long.