What's The Deal With Drew Stubbs?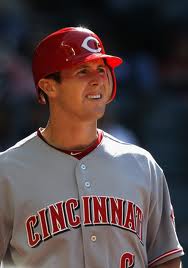 The Cincinnati Reds are built to win, both now and in the future. Between Mat Latos and Johnny Cueto (who really should have been an All-Star) in the rotation, and Sean Marshall and Aroldis Chapman in the bullpen, the pitching staff is certainly capable. And with future 2012 MVP Joey Votto leading an offense that features Jay Bruce, Brandon Phillips, and youngins Todd Frazier and Devin Moscoso, that capable pitching staff shouldn't have to work too hard. The only thing the Reds really need is a quality leadoff hitter to set the table for their big boppers. Zach Cozart, the shortstop of the future, led off the last game, but he has a .245/.294 AVG/OBP. While that's disappointing and certainly not good enough, Cozart isn't supposed to be the top of the order guy, Drew Stubbs is. But Stubbs is hitting only .231.
In an ideal world, Stubbs is a speedy defensive center fielder who gets on base, runs the bases well, and scores a lot of runs (thanks to Votto, Bruce, Phillips and Co.). If I had to compare hypothetical, best-case-scenario Dew Stubbs to another major leaguer, it would probably be Melky Cabrera. Stubbs isn't going to get as many hits as Cabrera has the last two seasons, but a 200 hit season really isn't out of the question for that hypothetical perfect Stubbs. Instead, real world Stubbs is more of a poor man's Austin Jackson. He doesn't steal as many bases and, if its possible, he's going to strike out more. He's not that much worse than Jackson though, and could still get to that level with some minor improvements. 
Drew Stubbs struck out 205 times last year en route to a .243 batting average. The previous season, he K'd 168 times and hit .255. In fact, Drew has a career .248/.323 AVG/OBP. His walks are down this year, which is alarming, but he's only 27 and in the prime of his career. Austin Jackson has cut his strikeouts in half this season and seen his BA rise 55 points above his previous career mark. If Stubbs can cut some K's, he might see some of those same results.
Adam Dunn strikes out a lot. To be precise: 1934 times in his 12 year career. He's stuck out an incomparable 125 times already this season. But, Dunn hits bombs.  He gets the big bucks to hit home runs and he hits a lot of them (he's on pace for 50) so nobody really cares that he whiffs with in nearly half of his ABs.
Drew Stubbs isn't so blessed. He gets paid to get on base, and striking out 200 times in a season is really not helpful in doing so. It is utterly unacceptable that Stubbs is this bad at hitting the baseball. His WAR currently sits at .6 which is positive, but as any baseball enthusiast will tell you (shoutout to Jim Tracy fans and the @smrtbaseball guys), batting someone with a .230 BA at the top of your order is not managerially wise.
The problem is that it shouldn't be an issue. I don't think Stubbs is a .230/.240 hitter with a bit of power (22 homers 2 years ago) and limited base stealing potential. Tool wise, I think he's much better than that. I believe Drew Stubbs can be a significantly above average baseball player that helps the Reds win a World Championship. Problem is, right now he's not, and there are virtually no stats that back me up. That's Drew's fault. Time to get better.