Who the Hell is Trevor Plouffe?
Over the course of the first half, the Minnesotta Twins have managed to maintain their success  total ineptitude from the 2011 season.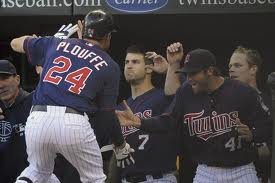 The same storylines that dominated the Twins last year have resurfaced in 2012, but at least they weren't supposed to be any good this season anyway.  Joe Mauer isn't the MVP he once was and has proven quite fragile behind the plate (which speaks volumes to what Brian McCann and Yadier Molina have done over the past 5-7 years).  Francisco Liriano appears poised to take home his third or fourth consecutive Kwame Brown Award for the player who does the least with the most amount of talent.  Justin Morneau is still battling concussion issues, and manager Ron Gardenhire still has a goateee.  Yawn.  Just another boring day year in the Twin Cities.  But over the last 30 days, Target Field has played stage for the emergence of one unlikley star: Trevor Plouffe. 
Plouffe (pronounced Ploooooooooooooooof) has been awesome over the last 30 days. Since the beginning of June, he's hit .333 with 13 home runs and posted a 1.179 OPS.  The 13 bombs are good for second in that span to Jose Bautista, and his OPS is good for 3rd behind Robinson Cano and Joey Votto.  So who the hell is this Trevor Plouffe and where did he come from?
Some quick facts on Plouffe (I only made one of these up):
Born in West Hills, California
West Hills is 79% White/Caucasian
Twins 1st round pick in 2004
Claims to be a Psychic
Hit .258 in his career in the minors
Hit .313 in AAA in 2011
Was born on June 15, 1986 (The same day as former Major Leaguer Sean West and about a month before Pablo Sandoval)
That's who the hell he is–or was–but who the hell will he become?  I'm not exactly sure, but Mike Aviles sure seems like a good comparison.  Offensively, Plouffe appears to be in the Late Bloomer mold of guys who don't get going until they're a bit older (think a Kevin Millar type hitter).  He's 26, and despite June's gaudy numbers, his minor league stats indicate that the long term Major League ceiling is probably that of a quality utility man.  Scouts have always liked his defense at shortstop, and the versatility is there.  He's already started games at Shortstop, Second Base, First Base, Third Base, Left Field, and Right Field.
Regardless of eventual (proabably unavoidable) regression to the mean, right now Trevor Plouffe is hitting like Joey Votto, Jose Bautista, and Robinson Cano, and no one can take that away from him.  I hope he keeps it up.  Ploooooooooffffff is fun to say.
Year

Age
Tm
Lg
G
PA
AB
R
H
2B
3B
HR
RBI
SB
CS
BB
SO
BA
OBP
SLG
OPS
OPS+
2010
24
MIN
AL
22
44
41
7
6
1
0
2
6
0
0
0
14
.146
.143
.317
.460
22
2011
25
MIN
AL
81
320
286
47
68
18
1
8
31
3
3
25
71
.238
.305
.392
.697
92
2012
26
MIN
AL
61
235
209
37
52
10
0
19
35
0
2
24
50
.249
.328
.569
.897
142
3 Yrs
164
599
536
91
126
29
1
29
72
3
5
49
135
.235
.303
.455
.758
106
162 Game Avg.
162
592
529
90
124
29
1
29
71
3
5
48
133
.235
.303
.455
.758
106
Stat of the day:  "Stat" in Latin means immediately.  Also, it was free waffle cone Monday at FroYoz.