Blue Jays Should Trade For Justin Upton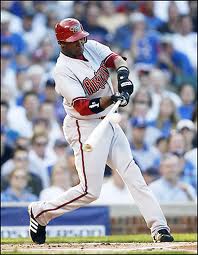 Rumor has it that Justin Upton is on the Arizona Diamondbacks' trading block. According to some industry sources, GM Kevin Towers isn't particularly enamored with Upton and is willing to deal him for the right package of prospects.
Upton has struggled this season, hitting .267 with only 7 homers and 36 RBI, and he's got just a .8 WAR. All those numbers are significantly lower than his totals for last season, when he finished 4th in the NL MVP voting. Upton posted an impressive 5.7 WAR while batting .289 with 31 homers and 21 steals. At only 24 he has the potential to be one of the best outfielders in baseball going forward. The expectationis that he and Giancarlo Stanton will battle for starting in right field for the NL All-Star team going forward. Or at least that was the expectation.
Early in June, Upton was benched. He was hitting only .243 and manager Kirk Gibson thought he needed to some sitting to right himself. Not how an organization and manager treat a guy they think is already a superstar.
If the rumors are true and Arizona is looking to deal Upton, the Toronto Blue Jays need to be at the front of the line with an offer. Personally, I would be surprised if Upton left the desert by the end of the month, but let's take a look at what a Toronto deal might look like, and its potential ramifications.
The Blue Jays have one of the deepest farm systems in the majors and it gives them freedom to put together a pretty tantalizing package for Upton. Right now, the Jays seem to be wedded to the idea of J.P. Arencibia behind the plate. Though some experts disagree, if the Jays are convinced Arencibia is the answer going forward, wouldn't Upton be the kind of player for whom they might trade top prospect Travis d'Arnaud?
If Toronto sends d'Arnaud to Arizona, they wouldn't have to put too much else in. But, the D'Backs just extended the contract of current catcher Miguel Montero so perhaps we need to rework.
What if Toronto offered prospects Jake Marisnick (OF), Justin Nicolino (P), and A.J. Jimenez (C) for Upton. I can't imagine the Diamondbacks declining and I can't imagine the Blue Jays balking either because of the potential that Upton adds to their lineup.
Toronto started the season off well this year but has fallen off of late after myriad medical misfortunes marred the pitching staff. When everyone is healthy and performing though, they have a pretty formidable rotation. If you added Justin Upton to the middle of a lineup featuring Joey Bats and Edwin (career year) Encarnacion, the Jays might have an order worthy of the AL East. Assuming Edwin Encarnacion isn't traded (which he probably will be), here's what the improved Jays would pencil in more often than not:
Brett Lawrie 3b
Colby Rasmus Cf
Justin Upton Rf
Edwin Encarnacion DH
Adam Lind 1b
JP Arencibia c
There's nothing wrong with that.