Los Angeles Dodgers Should Trade For Ichiro Suzuki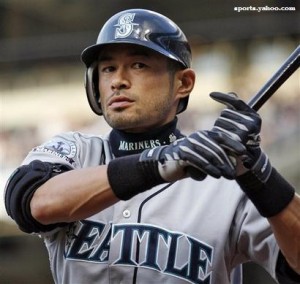 Ichiro Suzuki is the consummate Seattle Mariner. He's a former MVP and Rookie of the Year, he made the All-Star game in the first 10 seasons of his career, and he's been the face of the franchise for more than a decade. He is by far the Mariners' most popular player since Ken Griffey Jr., but sadly, they should trade him. And the Dodgers should trade for him.
Why the Dodgers should trade for Ichiro: Ichiro is one of the most dynamic players in baseball. He's coming off two consecutive 40 stolen base seasons, he's got 435 career swipes, two straight seasons of at least 161 games played, and is a 10 time Gold Glove award winner in right field. For a decade, he was arguably the best player in the game: he had at least 206 hits and a .303 batting average in each of his first 10 seasons, winning two batting titles along the way.
Last year, his production declined as he hit .272 with 'just' 184 hits. This year, he's been worse, posting a .261 AVG and hardly running at all.
That said, there are at least a few mitigating factors. Ichiro has been moved out of the leadoff spot for the first time in his career, and he's hitting third for an terrible offensive team. The Mariners are hitting .230 as a group and .195 at home (you read that correctly). Suzuki has no protection in the lineup, he's got no one on base in front of him, and he plays for an atrocious team. We make a big deal about the fact that Felix Hernandez is able to keep himself so motivated on the crappy Mariners, maybe Ichiro isn't as good at that.
There are positives here, too.  Ichiro's WAR this season is a perfectly respectable 1.4, and though the attempts are down, he's 12-14 on steals. He hits in the AL West, against pitchers like Jered Weaver, Yu Darvish, CJ Wilson, and Jarrod Parker (yes, I included Jarrod Parker) regularly. Much as I hate to mention it, Ichiro's BABIP is .276 this season, suggesting that he's had a bit of bad luck. And, despite last year's disappointing down turn in average, he still swiped 40 bags. The man is a career .323 hitter, a lock for the Hall of Fame, and mononymous. Aging or not, he's still Ichiro.
Bottom line: there is reason to believe that a switch to the NL West, a new league and a fresh start, could jump start him this season.
The Dodgers are in the market for a bat. They are in first place in the in the NL West and are 7 games above .500. Led by Clayton Kershaw, they have the pitching to make a real run this season. Offensively they get superstar Matt Kemp back on Friday. However, the Dodgers just lost speedster Dee Gordon from the top of their lineup, and with another injury to Andre Either, they could certainly use outfield help.
This team has manged to tread water and stay atop the division without a real lineup, but the front office knows it can't count on this forever. It's great that Kemp is coming back, finally, but more help is needed.
Los Angeles made a play for Carlos Lee, but Lee wasn't willing to waive his no trade clause for LA. Instead he was dealt to the Marlins. That move allowed Miami to send struggling first basemen Gaby Sanchez to AAA, making it official: James Loney is now the worst starting first basemen in the MLB. That assertion warrants a post in itself, but for now you'll just have to trust me. Loney is not just bad–he's terrible, and his terrible-ness has been overlooked for too long. A trade for Ichiro would solve the Loney problem.
The Dodgers could shift Andre Ethier to left, move old-and-dumpy-but-still-offensively-productive Bobby Abreu to first base (or even put Ethier there until he's fully healthy), keep Matt Kemp in center, and the newly acquired Ichiro would man right field and shore up the top of the lineup. Ichiro is just they type of speed bat that could make up for (exceed, really) the production of Dee Gordon while the youngster is out, and then compliment Gordon when he gets back. Not to mention take some of the pressure off the young leadoff hitter.
The Dodgers lineup at the end of the season could look like this:
Ichiro Rf
Gordon SS
Kemp Cf
Ethier Lf
Abreu 1b
Jerry Hairston Jr. 3b
Mark Ellis 2b
AJ Ellis C
Not too bad.
Why the Mariners should trade Ichiro: Ichiro has been the face of the franchise forever but the face is changing. The days of Ichiro and Brett Boone are in the past. The future is about Jesus Montero, Dustin Ackley, and (hopefully) Felix Hernandez.
Ichiro is in the last year of his contract and is due $17 million for this season. The Mariners could stand pat, wait until the end of the end of the year and watch him retire, sign elsewhere, or resign him to a lower (but still substantial) annual salary if he gives a hometown discount. Or, they could trade him now while he has value, get out from under his salary, and receive some young prospects in return.
If Seattle thinks Ichiro's going to retire and is holding on to him so that he can retire a Mariner, maybe Ichiro would like a shot at a ring before he hangs 'em up. If Seattle thinks he'll play next year and wants him back, they have every opportunity to resign him in the winter. However, if they really wanted him back, they could have locked him up with an extension already.
Bottom line for the Mariners is this: Ichiro is a Mariners icon; he will be whether he spends the second half of the 2012 season in Seattle or not. They could keep him for the rest of year, sell a few more "51″ jerseys, and risk him retiring or walking away without compensation. Or they could trade him and get a something in return.
It makes too much sense for both sides for it not to happen. It's time we see a little creativity out of the Dodgers, pull the trigger Ned.