The Art Of Fielding: A Review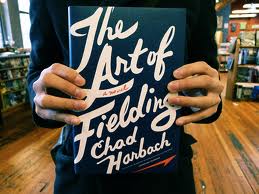 Today I am going to take advantage of the mostly clause in "a mostly baseball blog."  Rather than discuss a baseball issue I am going to discuss a baseball book: The Art of Fielding by Chad Harbach.  I'll address the book's literary merits as well as its accuracy in depicting the life of an NCAA Division III baseball player.
I first received The Art of Fielding in June of 2011, prior to its publication.  It was an ARC (Advanced Reader's Copy) courtesy of my author cousin.  He thought I would enjoy the book because of the parallels between the story and my own experiences.  The main character, Henry Skrimshander, plays shortstop for a DIII baseball team.
Henry is a small kid whose great skill is fielding.  He gets noticed during a summer league game by an opposing player Mike Schwartz, who is already playing college baseball at Westish College.  Mike recruits Henry and the two become college teammates.  Eventually, a few years into the story, Henry develops a case of the yips (for those who don't know what the yips are, think Chuck Knoblauch, or the catcher from Major League II) just as he is about to set the college baseball all-time record for consecutive errorless games.  The book chronicles the fallout from the yips and other happenings in the characters' social lives, and eventually the team comes together for a final shot at the DIII championship in Schwartz's senior year.
The Art of Fielding has received numerous awards including being named a NY Times bestseller, one of the newspaper's Ten Best Books of 2011, and Book of the Year by Amazon.  I thoroughly enjoyed it and think that it deserved most of the absurd amount of press and acclaim it received.
There is one aspect of the book that I didn't like, and it is very near and dear to my heart, and the hearts of all those who contribute to this blog.  Everyone at OffTheBench plays or played Division III baseball, and all of us did it at a small, Westish-ish, liberal arts college.  Although Westish is fictional, in the book they play real schools, like Amherst, and the readers are led to believe it accurately portrays the life of a typical DIII baseball player.  This is not the case.  Now don't get me wrong, many of the things Harbach mentions happen.  For instance, the catcher spends a lot of time in the training room taking ice baths, while players argue and get into fights with each other and the coaches.  This is all too accurate.  But there are some huge things Harbach completely glosses over, or fails to mention at all, that make The Art of Fielding a disappointment in my eyes.
During his first semester at school Henry stays to himself, meeting only his roommate.  He never sees Schwartz—the only reason he is at the school—and never does anything baseball related.   Now in the book Harbach explains that this is because Schwartz is playing football at the time and is really busy. However, all freshman athletes have a lot of paperwork and other things they have to attend to in the first semester, even if they are playing a spring sport.  Perhaps more glaring an omission is that most baseball programs in Division III hold tryouts and an abridged fall season, very soon after school starts.  In the south some do it later in the winter, but Westish is in Wisconsin.  They would have tryouts and a fall season in September and October.
In addition to this oversight, Harbach completely glosses over the social life aspect of a baseball team.  Players drink, including during the season.  There are initiations, drinking events, and parties all the time.  Now, most readers are not privy to clubhouses and the lives of baseball players, but all you have to do is think about the Red Sox last year and what was said about that clubhouse.  (Drinking beer and eating fried chicken during games, etc.)  To get an idea of a DIII clubhouse, take away the money, the media scrutiny, the drug tests (for the most part), and the quality of the players.  What you're left with is a group of deregulated college kids without much incentive not to drink.
Now I will give Harbach credit for dealing with this subject matter once.  There is a great scene describing a player's active pursuit of his teammate's younger sister.  (Yes, these things happen a lot with teammates.)  But overall, the book does not address these things nearly enough to provide an accurate portrayal.
My last complaint is that this book takes a Disneyesque approach to baseball.  The team starts out terrible, but great things are achieved by the end.  While this is very unrealistic, it is a book, and the lives of the characters outside of the baseball sphere are sufficiently un-Disneyesque, so I will give Harbach some slack on this issue.
All that being said, The Art of Fielding is a very good read, but just don't expect to come out knowing what it's like to live the life of a DIII ball player.
-David Ringold