Who's Awesome and Who's Not Awesome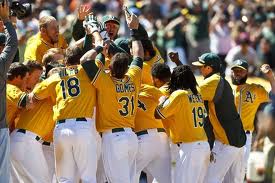 Its time for another installment of America's favorite game! Off The Bench Presents: Who's Awesome and Who's Not Awesome. First up:
Who's Awesome:
The Oakland A's.
Billy Beane's team is tied for a Wild Card spot after taking 3 straight from the New York Yankees at home this weekend. Yoenis Cespedes is hitting over .500 since the break and over .600 in the last week, Jarrod Parker continues to be lights out, the bullpen is possibly the best in baseball, by the numbers, the pitching staff is the best in baseball, and they keep winning the close games.
Like the Orioles in the beginning of the year, it seems like every win the A's get is in the 9th or later. I can't count how many times I've seen highlights where those mustard yellow jerseys are jumping up and down at home plate.
Often, it's Brandon Inge doing the hitting in clutch situations. Inge has completely resurrected his career since the unceremonious ousting from Detroit. Since getting the new address, he's hitting .110 points higher than he was (that's only .210, but still), has 8 of his 9 homers and 40 of his 42 RBIs.
Who's Not Awesome:
Me. Or, at least the prospects of my career as a psychic.
In my season preview of the aforementioned Athletics, I predicted the following: "67-95, last place in the AL West. The A's have to face the Angels and Rangers 19 times each this year and they just aren't good enough to compete. This will be a lost year by the bay."
Needless to say, I was wrong. To be fair to me though, the A's are behind both those teams (way behind the Rangers)  in the division. So I really wasn't that wrong.
I predicted that Cespedes would be an All-Star. He wasn't, though he has been quite good of late. I aslso predicted that Brad Peacock would finish second in the Rookie of the Year voting. He won't, but Jarrod Parker might.
Suffice it to say, like my Diamondbacks preview the year before, this one didn't go so well.
Who's awesome:
Mark Trumbo.
Trumbo is now the regular cleanup hitter for the Angels, batting directly behind Albert Pujols. The 26 year old is leading the AL in slugging percentage and has 8 bombs this month. His average is still above .300, he's driving in runs like crazy, and he put on a show in the Home Run Derby.
The Angels are poised to terrorize the AL West for the foreseeable future. They have Mike Trout (Bold Prediction: this year's hands down MVP), Albert Pujols, and Mark Trumbo on lock for at least the next few seasons. Be very afraid.
Who's Not Awesome:
Jair Jurrjens.
Jurrjens was sent down to the minors a month or two ago because he was painfully ineffective. There, he proceeded to assist the progression of every AAA hitter he faced. After a series of injuries to the rotation, the Braves brought Jurrjens back up, he had one good start, and now he's terrible again.
In his last outing, Jair went 3.1 and gave up 8 earned runs. Today, he pitched 2.1 and gave up 6 earned runs, ballooning his ERA to 7.04. Sean thinks he'll never make another start for the Braves.
Who's Awesome:
Ryan Zimmerman.
Zimm had a really tough start to the season. He was hurt and wasn't hitting. Until recently. His 2 homers today give him 4 since Thursday and 9 this month. Welcome back Ryan.
Who's Not Awesome:
The Death Penalty for Penn State.
Everyone involved in the terrible scandal in Happy Valley should be thrown in jail. None of those people currently play football for the Nittany Lions. Don't punish the players for something they didn't do.
Question of the Day: Who wins in a fight, Lebron James or 1000 kindergartners? I think James eventually tires and the kids over run him, 1000 is a lot of kids. A few of my friends vehemently disagree.