Ranking The 10 Most Beautiful Swings in Baseball Today
We baseball geeks love to talk about statistics.  We eagerly dissect one player's Hall of Fame resume versus another using every mathematical argument available.  We are giddy prognosticators of impending trades.  We get lost in the writing and the rumors and the speculation surrounding prospects.  And we leap at any chance to opine on a team's failure to live up to expectations or chastise managerial incompetence.
But amidst these thrills of keyboard and forum, we often neglect the finer points of the game; we fail to appreciate the work that these men do.  They spend hours upon hours perfecting their hitting mechanics (or pitching delivery), and too often we decry their shortcomings without giving due to the simple accomplishment of having a major league swing.
It's time to appreciate the product of their work, in much the same way we enjoy the walk-off win or a rival's collapse.  So in that spirit, here are ten guys we here at Off The Bench would pay to watch hit off a tee.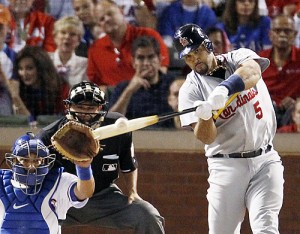 10. Albert Pujols: You don't finish in the top ten in the MVP voting 11 straight years, or hit 463 career home runs with a .326 average without a perfect, beautiful swing.  There I go citing numbers again to validate my pick.  Dammit.  Just look at the picture to the right and you'll understand.
9. Eric Hosmer: The young first baseman has struggled in his first full year with the Royals (hitting just .232 with a .302 OBP), but when he connects on an opposite field line drive, it's as pretty as anything you'll see in today's game.  Take a look at this at bat.  Even the swing and miss is a thing of beauty.
8. Randy Johnson: No, he's not active.  And no, he doesn't have a beautiful swing.  But at least this clip provides some context for the rest of the list (and makes sure you're paying attention).
7. Josh Hamilton: Hamilton can look silly on some swings when he chases out of the zone, but when he connects, it's pure.  One need only recall a July night at Yankee Stadium a few years back and his swings in the Home Run Derby (or the 4 homer game this year) to understand his awesome-ness.
6. Manny Ramirez: I'm not sure that he's considered "Active" but he's trying to play so I'm going to consider him "in Baseball today" and he's always had one of the prettiest right handed swings around.  I love watching the fluidity of Manny being Manny.  (Any current players with 8 minutes to spare might want to check this out. Try to look past the voice…)
5. Jose Bautista: Bautista's long powerful swing is gorgeous to watch.  He may be a dead pull hitter and not what you want to teach Little Leaguers, but that doesn't keep it from being pretty.  (If you're interested, here's Jose on how he got that swing and went from 16 homers a year to 54.)
4. Chipper Jones: What makes Chipper so great is that he does it from both sides of the plate.  His left handed swing is admittedly the "prettier" of the two, but from either side the toe tap and release that he's been doing for 19 years is stillas awesome as ever.  Especially when he connects on a walk-off homerun.  Chipper will be toe tapping off into the sunset this winter and that swing will be missed.
3. Evan Longoria: Longoria's upright swing seems like it always generates hard contact.  He's basically the smoothest right handed hitter since number 6 on this list.
2. Adam LaRoche: You don't have to be great to have a great swing.  LaRoche is as smooth as they come.
1. Robinson Cano: Not many guys in the history of the game have as fluid a swing as Mr. Cano.  Silky doesn't even begin to describe it.  What's great is that his swing has evolved visibly over his major league tenure.  With what he's got going these days, he'll hang on to the "prettiest swing in the game" title for a long time to come.  Cano is smooth in a way that would make Keith Stone jealous. (And this isn't even about defense, but we'll show some anyway.)
Those are the ten guys in today's game that have the prettiest swings.  The sad part is that if Ken Griffey Jr. picked up a bat right now, he'd still be atop this list.  No prettiest-swing-conversation is complete until you throw in a video of The Kid doing his thing.