Angels Acquire Greinke, Rest of AL West Has Collective Panic Attack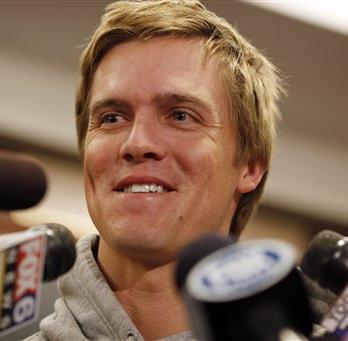 More to come as details develop, but it appears as if the LA Angels have just become heavy favorites to take the AL West, and quite possibly much more.  I'm having trouble reaching my sources in either organization, so I guess I'll have to plagiarize from the interwebs on this one.
The deal looks like a classic rental; Greinke is not arbitration-eligible and has made it clear he wants 5 years plus, and upwards of 20 mil a year.  With the contracts of Pujols, Weaver, Wilson, Santana, Haren, and Hunter (incidentally the highest paid per-annum of the bunch) all over 10 million a season, it seems a tall order to keep Greinke beyond this year with his stated price tag.
Barring an Angels World Series, the Brewers may be the real winners here.  Reportedly, Milwaukee received AA players Jean Segura, a shortstop, and pitchers Johnny Hellweg and Ariel Pena, the systems'  2nd, 4th, and 9th rated prospects, respectively.  For a guy who was undoubtedly going to walk at season's end, that's a monstrous return.
We'll try and keep you up to date/add more detail to this post, but, well, it's Friday night and dudes got ish to do.
Well, dudes did some ish, and now we're back.  Let's get into it.
For the Brewers, Segura was the biggest acquisition.  When Erik Aybar went down last week, Segua came up to pad the Angels' infield depth.  Before the call, he was posting a good line at AA Arkansas: .294, 7 HR, 40 RBI, and 33 SB.  With Rickie Weeks showing, uh, signs of decline, Segura might have a shot in February and March next year.
Hellweg and Pena are pretty close in terms of potential value.  Both are 23, and both are having solid AA campaigns.  Pena is really moving in the right direction.  He's averaging a quality start every outing with a 2.99 ERA, 1.19 WHIP, and a 111/42 K/BB ration over 114.1 innings in 19 tries.  Hellweg meanwhile has lowered his ERA in each of his three full seasons, and this year has a 3.38 over 21 starts.  But the peripherals might raise an eyebrow, as the K/9 has plummeted while the HR rate spiked.
None of these guys will be up this year (I think), but even if Hellweg or Pena were as advanced as Segura (who signed out of the D.R. at 17), 4 of the top 5 prospects in the Brewers recently-depleted system are pitchers with more upside and more invested in them.  The Brewers' farm is devoid of offensively developed infielders.  Either way, all three are great additions to a farm system rebuilding after the pre-Prince-parting-push fire sale of 2011 .
In all, it looks like a reasonable, well-balanced deal; a classic partnership of deadline buyer and seller, with potentially massive short and long term implications.  Obviously the Angels' staff is now primed for the playoffs.  But for Greinke the man–the quiet phenom, the maligned superstar–it's an opportunity to prove himself in a big market on the brink of his free agency.  The Brewers have acquired a probable successor to the aging Weeks (who will likely find himself in Greinke's position this time next year), and they have added quality, upside arms to a system that needed depth.
We'll see soon enough if it was worth it for Los Angeles, and only time will tell for the Brewers.