Hunter Pence to the San Francisco Giants
Reports surfaced overnight that the San Francisco Giants have made a deal for Philadelphia Phillies outfielder Hunter Pence.  Pence, last summer's deadline acquisition by the Phillies, has played as well in Philly as anyone could have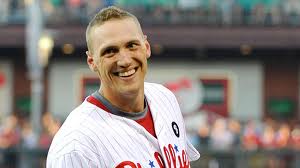 asked.  He's unorthodox and ugly to watch, but one has a hard time arguing with a career .290 average and multiple All-Star selections.  He's not a superstar in this league, or really even a star, but he's one of those guys who helps you to win on a nightly basis.  Pence plays hard and gets after it, which is something the Giants could use opposite the calm consistency that's been Melky Cabrera.
The deal has not been finalized, but I'm going to write about it as if it were.  We all know that when one GM says "there's no truth behind that rumor," well, there's truth behind that rumor.  Nobody has reported who exactly the Phillies will receive in return.  I don't care.  Pence was never coming back after this season and the 2012 Phils are now 16.5 games out of first place, with a worse record than the Mariners.  Yeah.  Read that again: A worse record than the Seattle Mariners.
Pence brings a good package to San Fran.  He provides another power bat, and will likely take RBI pressure off Cabrera.  He displaces Gregor Blanco, who has had a solid season to this point–finally proving himself a legitimate everyday outfielder–but shouldn't be expected to carry an offense.  While I like how good a Melky Cabrera, Angel Pagan, Hunter Pence outfield could be, the outfield wasn't exactly the problem in the Bay.  Their middle infield is incredibly mediocre.
Brandon Crawford has played better than even Brandon Crawford's mom thought he could play.  Still, his .288 OBP starts with the wrong number.  Then there's Ryan Theriot, drastically miscast as an everyday player for six straight years now.  (His career 5.6 WAR has been surpassed by three players' single season marks this year.)  Finally, the Giants went out and got Marco Scutaro, who can play either position, but not both at the same time.  One has to think that the Giants made at least a few calls about getting Placido Polanco or Emilio Bonifacio or even Darwin Barney, but apparently nothing came of it.
Pence is a good addition, and so was Scutaro, but continuing to allow either Ryan Theriot or Brandon Crawford to play on a daily basis does not bode well for the Giants' playoff aspirations.  That said, one has to (continue to) assume that Tim Lincecum will pitch better and that an added bullpen arm (perhaps in this Pence deal) will help their pitching staff attain its dominance. Still, displacing Gregor Blanco while ignoring Brandon Crawford's performance is backwards.
 Stat of the Day: Brian Wilson will finish this season with a WHIP of 3.000.  Props to whoever had that in their preseason previews.