Each year, the Cy Young award is given to the best pitcher in each league, and this season the National League's best pitcher has been Cincinatti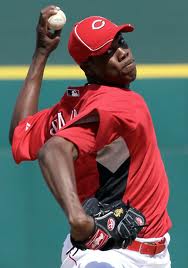 Reds closer Aroldis Chapman.  The Cuban Missile, as Chapam is so affectionately known to Reds fans, has been as unhittable as anyone in the history of the game.  That's not just hyperbole either.  He's giving up just 4 hits per 9 innings.  That's the best mark in the history of baseball for anyone with over 30 innings pitched in a given year.  Well… except for another closer this year: Craig Kimbrel is giving up just 3.6 hits/9.  Three.  Point.  Six.  Kimbrel has just as good a case for the Cy Young, but I've been accused more than once of a Braves bias so I'll make my pitch for the Cincinnati flamethrower.
Not only is Chapman allowing fewer hits/9 than anyone in the history of baseball (other than Kimbrel), he's striking out more batters per 9 as well: 16 K/9 to be exact.  Oh, that one too is the best mark in histroy.  He gets those 16 Ks per 9 by striking out 49% of the guys who step into the batters box against him (yes, that's also the best ever).  If you're old school and prefer to hold ERA as the end all, be all stat, his 1.34 ERA is fourth in the NL.  But here's where it gets fun.  Against NL opponents (if you remember, Chapman ran into some troubles during interleague play), Chapman's ERA in 48 1/3 innings 0.19.  Zero point one-nine.  And his hits/9 drops to 3.3, better than Kimbrel's.
All this is good and fun, but what is the precedent for a closer as a Cy Young winner?  Most recently we have Eric Gagne in 2003.  Some people will tell you that was the greatest season ever by a reliever.  I would entirely agree. So comparing Eric Gagne's 2003 to what Aroldis Chapman is on pace for…
| | | | | | | |
| --- | --- | --- | --- | --- | --- | --- |
|   | IP | K's | Saves | Earned Runs | WHIP | ERA |
| Champan (Projected) | 78.4 | 147 | 37 | 12 | 0.708 | 1.34 |
| Gagne | 82.1 | 137 | 55 | 11 | 0.692 | 1.2 |
 While Gagne has him beat in saves, allow me to dismantle any argument that tries to discount the Chapman's candidacy due to a deficiency in that overvalued category.  A pitcher can walk three guys, give up two doubles, have three wild pitches, and still earn a save.  Save situations are far too dependent on a given team's success and failure to be  included in an educated argument.  Continuing, Chapman projects to have more strikeouts than the famed Gagne and a comparable WHIP, ERA, and IP.  Gagne won the Cy Young that year receiving 28 of the 32 first place votes.
As for the rest of the NL Cy Young hoepfuls, they all have their arguments.  R.A. Dickey had a stretch for the ages from May 22nd to June 18th: 6 starts, 48.2 IP, 1 ER, 63K. That's an ERA of 0.02, and 11.2 K/9.  And he has the knuckleball gimick to get votes.  Johnny Cueto currently sports a 2.58 ERA and 14 wins, and does his thing with Brandon Phillips-esque SWAG.  Clayton Kershaw, the reigning winner, is also having a great year.
For my money, I'd vote for Chapman.  He's having a better season as a closer than anyone ever has.  Yes, he pitches one inning a night and can afford to go for the strikeout, but so can all other relievers.  He's just that much better than anyone–ever–in that role.  The same cannot be said of the starting pitchers in this years' NL Cy Young field.
As for voting,  there's usually a story associated with a Cy Young winner.  A reason that the voters voted for him.  Usually his team is playoff bound.  Check.  Usually he is known for something.  Check.  Usually he steps up big in a big spot.  To be determined (but coming on like this after the injury to Ryan Madson and the struggles of Sean Marshall has to count for something).
That's just one man's opinion.  Then again, I thought Chapman should start just this Spring.
-Sean Morash