The Circus Continues: Carl Crawford To Have Tommy John Surgery Thursday, Four Months Late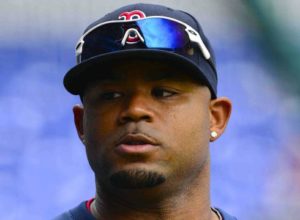 Boston Red Sox Outfielder Carl Crawford will reportedly undergo season-ending surgery this Thursday to repair damage to his left ulnar collateral ligament.  The words 'I told you so' come to mind.
This is just another notch in the now-porous belt that marks Boston's front office gaffes this year.  For position players, the procedure has a six to nine month turn around time.  Given what we've seen of Crawford's rehab history, this reporter is taking the over.  So where does that leave us and why does it matter?  As it stands (betting the over), Crawford should rejoin the 2013 Red Sox lineup in late March/early April.  But that's not the worst of it.  The Sox have known it all along.
Of all baseball related surgeries, Tommy John is perhaps the most predictable–and James Andrews is arguably the best at predicting it.  According to Crawford, Andrews told him as far back as April that Tommy John would eventually be necessary.  Had the procedure been performed at the time of the diagnosis, the left fielder would have been in position for a leisurely rehabilitation, followed by a healthy offseason of full body strengthening, and finally, a full Spring Training to get his legs under him and his swing right.  Instead, the $142 MM man will find himself right where he was last year: rushing back, under pressure.  So, why has Crawford been playing these past five weeks?
The logical answer is that management felt his presence, diminished as it was, would give the team the boost it needed to make the playoffs.  But that logic died as a litany of setbacks befell the hapless outfielder, while a litany of losses befell the team.  By the time Crawford finally made it back from rehabbing his various other ailments, the season was a foregone conclusion.  So why was he playing?  That's really, really tough to answer.
What's even harder to answer is why General Manager Ben Cherrington was denying the decision for surgery up until, well, up until it was announced.  As the latent inevitability of Crawford's surgery continues to crystallize, that dissonance became ever more puzzling.  As Cherrington struggles to maintain his image–and control–going down with that ship seems more than ill-advised.
One might consider the impending conclusion of the 2012 season merciful for Boston, but the future isn't shaping up much brighter.  There is virulent disharmony in the upper echelons of the organization.  The team's second most productive hitter, Cody Ross, is a free agent.  David Ortiz is a free agent (and still injured).  Jacoby Elsbury is arbitration eligible.  It is totally unclear who will manage this team going forward.  Despite the firing of pitching coach Bob McClure (fittingly replaced by the other pitching coach, Randy Niemann) the starting rotation is still a glaring question mark.  And now the extent of Crawford's contribution is unknown, (and history is not on his side).
If nothing else, this is a great moment to segue into an upcoming multi-part feature we're working on: GM For An Offseason: How To Fix The Red Sox If You Only Had Six Months To Do It.  Stay tuned.
Stat of the Day: Josh Beckett has 1 (one) (a single) (a lone) (a solitary) (a companionless) (an unaccompanied) win since May 20th
Quote of the Day: "It's no secret our starting pitching has not been as good as it used to be …" Ben Cherrington