Red Sox Perspective: Is the Trade of The Century a Good Idea?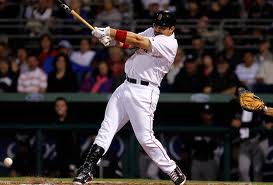 By the numbers, this Red Sox-Dodgers trade could be considered the biggest trade in baseball history. It includes the most money ever traded, it is the first time two players each owed at least $100 million (Carl Crawford and Adrian Gonzalez) were dealt at the same time, and, arguably, it includes the most talent ever moved at once.
There are a million and one ways to look at this deal from as many perspectives, and a million and one different conclusions to draw. Personally, I understand the trade–Crawford is a divisive figure in the Boston front office, Josh Beckett is a divisive figure in the Boston club house (who really should have been moved in the aftermath of Beer-and-Chicken-gate), Nick Punto is a toss in whose departure clears shortstop for Jose Iglesias and Pedro Ciriaco the rest of the season, and Adrian Gonzalez is owed a huge sum of money–but I'm not sure I agree with it, especially the A-Gon part.
I'm not going to talk about Punto. Nothing against him but he's not the big name here and honestly not that important anyway.
Trading Josh Beckett is a smart and savvy move. He's owed $31.5 million over the next two years and is a relic of a bygone era in Boston. He's not a good clubhouse guy and, since he's not performing on the field, he's not worth the trouble or the money.
At the same time, Beckett has been great for Boston and is largely responsible for their two historic championships.  Still, pro sports is a 'what have you done for me lately' arena and Beckett hasn't done squat. Moreover, he's maddeningly consistent. He's notorious in the baseball world for being unhittable in odd years and terrible in even years. Check out his career stats. Very briefly, his ERAs in years that end in an odd number: 1.50, 3.04, 3.38, 3.27, 3.86, 2.89. His ERAs in years that end in even numbers: 4.10, 3.79, 5.01, 4.03, 5.78, 5.23.  Crazy right?
At this pace, he'll have a good year for the Dodgers next season but in 2014, watch out. He'll be bad and 34 years old. It was a good move for the Sox to get out from under Beckett and move on, and in a different direction.
This brings us to Carl Crawford. I might be an optimist here, and he clearly wasn't comfortable with any situation in Boston, but we are still looking at one of the best players in the game over the last decade. Even with last year's dreadful .255 batting average over more than 500 ABs, he's still a career .292 hitter.
I get that Crawford fails the 'what have you done for me lately' test like Beckett, but unlike Josh, he's still a top quality talent that is capable of putting a team on his back for extended stretches (he carried the Rays for about 8 years). He might not be worth quite as much money as he's set to be paid but he's not that far off. When the deals were inked, I thought Jayson Werth's contract was much worse for the Nationals than Crawford's for the Red Sox.
Last year, he was getting used to playing in front of more than 10,000 fans a game. This year, he's been hurt and was rushed back in what was very clearly an irresponsible manor. Now, he's likely been traded without ever having a real chance to prove himself. I think he'll be an All Star in LA and the Sox will be kicking themselves.
Despite Crawford, Adrian Gonzalez is the shocker in this potential deal. A-Gon is one of the best pure hitters in baseball and you can go on forever about how he's having a down year and he's really much better than this season (which is still pretty good) and blah blah blah, etc. Everyone else is doing that. I'm going to take a different track.
There were rumors about A-Gon to the Red Sox about a year before he was actually traded. When the deal happened, Yankee fans collectively took a big gulp.  In 2010, the Red Sox finished 3rd in the AL East but they won 89 games. That winter, they added Gonzalez, a top-five first basemen both offensively and defensively, and Carl Crawford, the most coveted free agent. They set the baseball world on fire.
If you remember, in the wake of those transactions, the Red Sox led Sportscenter, they were the talk of the sports world. Everyone believed that the 2011 Red Sox were the modern day equivalent of the 1927 Yankees. It was impossible not to pick them to win it all. I had the same feeling in my stomach then that I have now when I think of a Romney Presidency. I was very scared.
Of course, things didn't work out that well (here's hoping the same thing for Mittens). There was The September Collapse and then the debacle that is this season. But I can't help thinking that the Red Sox are giving up on this dream a little too soon.
I get the arguments for roster flexibility and reducing payroll but if everything breaks the way it is supposed to, this could still be the most formidable lineup in baseball. I think it needs to be given a chance. Let Crawford come back healthy. Let A-Gon produce to the level he has proven he can. Let Pedroia stay healthy. Let Middlebrooks get a season under his belt. Let Lavarnway establish himself. Let Ortiz have some job security. Let Ellsbury do his thing. There is no team in baseball that can compete with that. Not one.
To say the least, I think it's a little crazy to blow everything up now.
For nostalgia's sake, and to help prove my point about the potential of this team, copied below is the entire 30 Teams in 30 Days 2011 Season Preview that we wrote for the Red Sox before the 2011 season.
30 Teams in 30 Days: Day 26 – Boston Red Sox
1918. 1918. 1918. The Red Sox could not get over the curse of the Bambino for a full 86 years.  Then Curt Schilling, bloody sock and all, helped an unruly, unkempt crowd of players reward Boston with a World Series win in 2004.  All of us non-Yankee fans remember that ALCS when the Sox beat the Yankees after going down three games to none.  Awesome.  One of the best series ever and part of my baseball memories from my childhood that I will tell my kids about when I'm older (Along with "I saw Barry Bonds play", "watched on TV as McGwire hit number 62″, and "left a game in the eighth inning with the Braves down 9 only to listen on the radio as they had a 10 run ninth-never leave a game early").  Anyway, with the post-2004 Red Sox an annual contender, can the 2011 Sox make it 3 Championships in 7 years?
Projected Lineup:
Dustin Pedroia (2B)
Carl Crawford (LF)
Kevin Youkilis (3B)
Adrian Gonzalez (1B)
David Ortiz (DH)
J.D. Drew (RF)
Marco Scutaro (SS)
Jarrod Saltalamacchia (C)
Jacoby Ellsbury (CF)
Projected Rotation
Jon Lester
John Lackey
Clay Buchholz
Josh Beckett
Daisuke Matsuzaka
Strengths:
Lineup:  With the offseason additions of Adrian Gonzalez and Carl Crawford, the Red Sox transformed their team into the most formidable lineup in the Majors.  While the lineup is admittedly a bit lefty heavy (5 lefty only) the team will score a ton of runs.  Pedroia was hurt last year but is only two years removed from an MVP 2008.  Youkilis, Crawford, Ortiz, and Drew are perennial all stars and in combination could create a bit of Murderers row.
Rotation:  Daisuke Matsuzaka is the No. 5 pitcher.  That should tell you all you need to know.  But, its an informative blog so I'll tell you more.  Daisuke may not be the $100 Million man the Red Sox thought he would be when they brought him over from Japan but he gets people out (4.69 ERA in the AL East is not terrible).  John Lackey was brought over last year to help the team and posted his typical season (200+ IP, over 3.50 ERA, and under 200 K's). You know what your getting with Lackey so don't expect too much.  We haven't even mentioned Jon Lester (3.25, 19-9, 225 K, 1.20 WHIP, age 27) who was recently named opening day starter.  Oh, and there is Clay Buchholz (17-7, 2.33 ERA-2nd in the AL, age 26) who looks awesome in his Phiten necklace.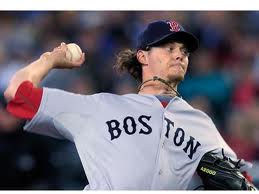 Bullpen:  Jonathon Papelbon may not be the top closer of two years ago but he still had 37 saves and more K's than IP.  Should Papelbon struggle, look for Daniel Bard to get the shot at closing,  Bard, and his upper-90s fastball, should have no problem in the closers role especially considering he had a .176 BAA and didn't post an ERA over 3.07 in any single month.  Don't forget (as I did) that this team also has Bobby Jenks who has had at least 27 saves in each of the past 5 years.  This team has three guys who could close on a lot of teams.  Remember Andrew Miller, the guy in the Miguel Cabrera trade who couldn't throw strikes with the Marlins? He's back with the Red Sox as a left handed specialist out of the bullpen and has looked great in Spring Training.  He threw what one scout called the most dominant inning he had ever seen (99 MPH fastball, 7 pitches, 2 K's).
Weaknesses:
Catcher:  Jarrod Saltalamacchia is the No. 1 catcher in Boston.  Dude can hit but can't throw it back to the pitcher. Not a good sign for a team with World Series aspirations.  Assuming Jason Varitek (the CAPTAIN!!! I always hated that he wore that C on his chest. Nobody outside of Boston cares. At all.) taught Salty how to throw it back to the pitcher, he's still a weak place in the lineup.  Salty has a career .248 BA and only had 24 AB's in 2010 as he sorted out his…issues. In a stacked lineup, Salty could produce. If he doesn't the Sox certainly have the resources to go get another catcher.

Too many No. 2 type hitters:  Dustin Pedroia, Carl Crawford, Marco Scutero, and J.D. Drew may all be best suited for the 2-hole.  How can a lineup be any good with that many No. 2 hitters?  Surely GM Theo Epstein should have recognized this and gone after more traditional roles.  I bet manager Terry Francona has gotten alot of headaches thinking about how he will hit all these guys second in the lineup at once.
Storylines:
Josh Beckett:  Beckett is unpredictable and widely considered a jerk.  Can he bounce back from a disappointing 2010 (5.78 ERA) and pitch more like 2009 (3.86)?  I say yes.  Look at his career statistics.  He pitches well every other year.  Maybe he only likes odd numbered years…
Papelbon's Future:  Papelbon is no longer reveered in Boston and his replacement is ready to go.  How long does Papelbon hold onto the role? Can the Sox get full value in trading him?
4th, 5th, and 6th Outfielder: Mike Cameron did not come to Boston to sit on the bench.  Cameron has 269 career HR, and 296 SB and is the 4th outfielder.  Ryan Kalish is a promising young talent with a lot of power and speed.  Darnell McDonald is a serviceable replacement and brings a veteran presence to any team.  Remember that in baseball, we play with 3 outfielders.  This speaks to the depth of this Red Sox roster (that I would take the time to talk about how good their backups are).
Prediction:
99-63, 1st Place, AL East.  I picked 99 only because its unfair to pick team to win 100 games.  This Red Sox team is really, really good.  Their strengths were hitting, pitching, and relief pitching.  The only other facet of the game is defense.  Crawford in the best Left Fielder in the game, Adrian Gonzalez plays GG caliber defense, and Jacoby Ellsbury can flat go get it in CF.  I don't see any way that this team repeats 2010 (89-73) and fails to make the playoffs.  89 wins last year was enough to finish a game behind the Rangers, and two behind the Reds (2010 was not that bad).  2011 should be a good year for Red Sox nation.  The Red Sox should be really good for a really long time when considering their recources and their success in the draft the past few years.
Bold Prediction:
The Red Sox win the World Series (Max already picked the Phillies but he's as biased against Boston as I am against Philly).
Josh Beckett has a major comeback year.  3.40 ERA, 18 wins, and 212 K.
Carl Crawford scores 149 runs.  I don't know if that would be a record but I think its a whole lot.
Adrian Gonzalez wins the MVP.  He hits 48 HR and drives in 128 while batting 3.15
Papelbon is traded to the Rangers for whichever Molina they have and some prospects.