The Red Sox and Dodgers Shocking Trade
The Los Angeles Dodgers have a new ownership group with apparently bottomless pockets.  After acquiring Hanley Ramirez's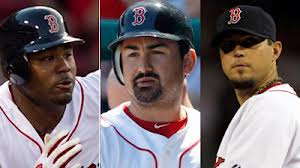 risky contract at the trade deadline, the Dodgers now appear likely to import some serious talent from the Boston Red Sox.  It's the type of deal that doesn't happen often, and is virtually unheard of in the month of August.  Max asked me last night if I thought this deal would go through.  My response: "I'd be shocked."  In retrospect, I really shouldn't be so shocked.  It's August, which means that we as a baseball nation have pushed the idea of impact trades to the back burner.  But that doesn't mean this trade doesn't make sense, at least on a very basic level.
Reportedly, the Red Sox are sending perennial All-Star first baseman Adrian Gonzalez, perennial jerkwad-yet-talented-so-we-try-to-put-up-with-it pitcher Josh Beckett, and the talented-yet-slightly over-payed-and-recently-Tommy Johned outfielder Carl Crawford, who clearly has some bad voodoo in Boston.  To trade this much talent, one would assume that the Red Sox return would be an unreal haul of prospects.  In reality, Boston will receive (debatably) major leaguer James Loney (1B), and prospects Rubby De La Rosa (RHP), Jerry Sands (OF), Ivan DeJesus (INF), and Allen Webster (RHP) . I'm no prospect master, but our friend Marc over at baseballprospectnation.com seems to think that DeJesus is a quality Major League utility guy going forward, while Allen Webster is a No. 3 starter at best.  De La Rosa has also shown the makings of a quality big league starter.
The bottom line here is that this trade isn't so much about the talent swap as it is about the contract swap.  The Dodgers are prepared to take on more than $260 million in contracts and the Red Sox fron office finally has the freedom to construct a roster the way they want it.  For the Sox, I really like the deal for next year, but I think they may have had a better one in the early stages of the offseason.  Josh Beckett out of the fold is a big deal.  I expect Jon Lester to take a step forward without his beer and chicken wings compadre around anymore.
The shift in culture cannot be understated in this trade.  The Red Sox have been an absolute mess of rumors, stories, and babies, and it's been clear for a long time that something needed to change.
As for the Dodgers side, I'm excited about their talent haul, but worried about the clubhouse.  Hanley and Beckett are two characters known equally for their talent and cancerous attitude.  I'm worried the Dodgers new ownership has sacrificed the locker room atmosphere (which, given the time teammates spent together, is more important in baseball than in any other major sport) for a bunch of individualists known for weighing others down.  Time will tell if LA becomes the new soap opera of the Majors, but they certainly have become more talented with this trade.
One last thing: Josh Hamilton, Zack Greinke, Ryan Dempster, and a host of other names are available this offseason.  If the $260 million was burning that bigs a whole in the LA ownerships pockets, why didn't they just give it to me?
Editorial Note: We've got more than one writer on staff here at Off The Bench, which means more than one take.  So don't be surprised if there's more than one post on this enormous (I wish enormous could be even more italicized) trade.