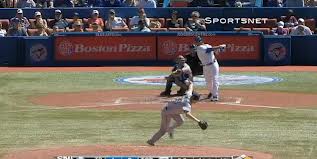 The Toronto Blue Jays have long believed in Edwin Encarnacion.  Before that, the Cincinatti Reds were big, big fans of the third-baseman-turned-first-baseman.  But until recently, expectations went unmet.  This year Encarnacion's got 36 bombs, and is around the corner from 100 RBI.  His previous career high in home runs was 26, and save one season of 21, his totals were routinely in the teens, not twenties.  At age 29, Edwin appears to have taken his production to another level.  Believe it or not, he' got a legitimate MVP case.
Edwin Encarnacion is on pace for 44 homeruns, 113 RBIs, 102 runs, and a .286/.386/.570 slash line, good for a .956 OPS, third in the AL.  Read that sentence again.  44 Homeruns.  Career High.  113 RBIs.  Career High.  102 runs.  Career High.  .386 OBP and .570 Slugging. Career Highs.  For those of you who care about Slugging Percentage Plus (SPP), his is .643.  In the last SPP Update, Ryan Braun was at .659, giving you a good indicator for how well Encarnacion has played.  I think you get the idea.  Edwin Encarnacion has finally arrived in the Major Leagues.
We at Off The Bench can't say that someone in our community didn't see this coming.  It's just that it was one of our loyal readers rather than one of us.  After I lit Edwin up while making a case for the Blue Jays to sign Vladimir Guerrero (which they ultimately did, but it didn't turn out so hot), Mike in Ithaca rose to Encarnacion's defense citing his .507 second half slugging percentage and 10 homers after July 28th.  Mike, it turns out, was right.  But Encarnacion presents an interesting case because he's a guy who's shown flashes of brilliance sporadically throughout his career.  He hit .289 in his age 24 season; clubbed three homers in one game in May of 2010; and has always had an absolute hose at third base.  Now, he's 29 and has figured out what's up.
I'm not going to go so far as to say that Encarnacion's transformation mirrors that of teammate Jose Bautista, but both have lessons from hitting coach Dwayne Murphy to thank.  Another point to consider is the change of position.  It appears as though lifting the mental strains of playing third base poorly has liberated Edwin to focus on the whole hitting thing.  Serving the Blue Jays as a DH/1B this year, we have seen how the guy can really hit.  This season, Adrian Gonzalez's foray into right field and subsequent/worsened power outage illustrate the significance of positional switches on offensive performance. (There's likely a post coming on this that will make the point more eloquently.)  Suffice to say, something has changed with this guy and–call it optimism, call it naivety–I'm not going to suggest anything sinister.  In this post-tree-trunk-arms-era, it's good to see guys woking hard and putting it all together.  I'm happy for him.
After all, he can do this:
If I had an MVP vote today, I'd seriously consider penciling Edwin Encarnacion third, behind Mike Trout and Miguel Cabrera.  I can't believe I just wrote that sentence either, but coaching success story or late bloomer–whatever you want to call it–he's flat out been that good.
-Sean Morash
Stat of the Day: Top five AL SPPs as of today: Mike Trout .688, Edwin Encarnacion .644, Miguel Cabrera .634, Albert Pujols .586, Mark Trumbo .543. Yes, that's three Angels.