The Detroit Tigers Will Make the Postseason
Updated: September 11, 2012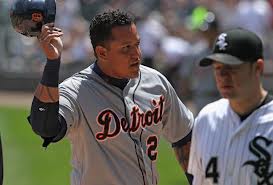 While the pundits and greater baseball world have their focus on the A's and Angels this week, there is a series with slightly less magic yet objectively more importance. In what is shaping up as one of the more interesting rivalries in baseball, the Chicago White Sox host the Detroit Tigers.  The White Sox won game one last night 6-1, but for most of it, things were much closer and I couldn't help but think that the Tigers were the better team.  They made three errors and Miguel Cabrera grounded into a killer double play early on.  To an outsider like me, how they lost last night sums up the disappointments of the season to this point.  However, they are very simply the most talented team in the AL Central and will prove it over the next three days.
Last night's loss puts the Tigers three games out with 22 to play, but all is certainly not lost; especially when one looks at the remaining schedule.  The Tigers will play, after these next three with Chicago, 16 of their next 19 against the Indians, Twins, and Royals.  It's go time in Detroit.
We'll get to the mathematics in a minute, but for now we'll take an objective look at the roster differences between the Tigers and White Sox.  Consider that White Sox masher Adam Dunn is likely to sit out this entire series because of an oblique strain.  History might indicate he's more hurt than he cares to admit.  Francisco Liriano is still making starts for the White Sox and we've written how volatile that can be. And Kevin Youkilis is sporting a moustache that makes White Sox games nearly unwatchable (see below).  Speaking of unwatchable, Hawk Harrelson is the single worst announcer in baseball.  You can put that on the board.
Meanwhile, Miguel Cabrera, Prince Fielder, and Austin Jackson are putting together very good seasons and have each hit above .300 thus far.  Rick Porcello pitched much better than his line indicated last night and Justin Verlander has about four more starts.
With the superstar advantage squarely on the Tigers' side, we know that baseball games are decided by more than a superstar or two.  To me, the  difference in the lineups comes down to Delmon Young vs Dayan Viciedo, or Alex Avila vs Gordan Beckham.  With Avila and Beckham, much more is expected from them and they've each been a slight disappointment to this point; Young and Viciedo are both at that "I'm not quite a star in this league, but I'm good enough to disappoint you when I'm not quite good enough" stage.
The way the rotations stack up is interesting.  It comes down to who you believe in.  If it's not clear who I believe in to this point, let's just say a rotation with both Francisco Liriano and Jose Quintana should not and will not be playoff bound.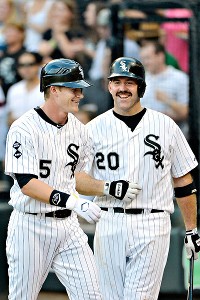 The eye test goes to the Tigers, but the eye test has been against the Orioles all year and they continue to hang in the race.  I'm more concerned with the matchups and how exactly the Tigers will overcome this three game hole.  I've already mentioned that after this next set with Chicago, 16 of the Tigers' next 19 are against the Indians, Twins, and Royals.  Meanwhile, 12 of the White Sox's next 18 are against that same pack of subpar teams.  That's the magic of the unbalanced schedule.  I looked up the intradivision records of these two and the Tigers have a distinct edge (.566 winning percentage to .509).  For the record, should a tie occur between these two, a one-game playoff would take plae and that'd be awesome.  With 22 games to play and a three game difference, not too much farfetched-ness has to happen for the Tigers to break through.  It should be a good game and I know that at
Off The Bench
headquarters tonight, we'll have our eyes on both the White Sox/Tigers and the Angels/A's, and maybe Tampa/Baltimore or Pittsburgh/Cincinnati.  Just watch some baseball tonight and enjoy.