The Dodgers Are Dead. Bury Them.
Updated: September 17, 2012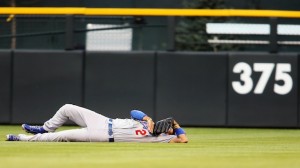 Even before reports surfaced about the dire condition of Los Angeles Dodgers' ace Clayton Kershaw's hip, I was thinking about writing this post. The Dodgers made a clear push to make the postseason this year, acquiring Hanley Ramirez, Joe Blanton, Randy Choate, Shane Victorino, Adrian Gonzalez, and Josh Beckett, but they are currently 7.5 games behind the Giants in the NL West and a game back of the Cardinals in the NL Wild Card race.
Plus, they are playing like crap.
The Cards are about to get stud pitcher Chris Carpenter back and are one of those "know how to win" teams, and now the Dodgers have lost arguably the best pitcher in the league.
I'm officially declaring the Dodgers dead.
Since coming to the Dodgers, Adrian Gonzalez is hitting .233 with 10 more strikeouts than walks. He has scored five runs in 21 games and the only homer he hit was in his first Dodgers AB.
Josh Beckett is 1-2 and has issued nine walks in his first four Dodgers starts. (He has a 3.38 ERA and a 1.50 WHIP)
Joe Blanton is 1-4 with a 6.07 ERA since joining LA. Not exactly helping the team's playoff chances, is he?
Randy Choate has ptiched in an astonishing 30 of the first 49 games he's worn the Dodger blue, though he's pitched a total of just 12 innings. Choate's 3.00 ERA is quality and he is clearly a durable lefty arm for Don Mattingly.
Hanley Ramirez has played 49 games for LA. In that time he's hitting .264 with 10 HRs and 38 RBI, and gone a subpar 3-6 in steals.
What I'm getting at here is that without Kershaw–who is the undisputed ace and would have gotten the ball in the Wild Card playoff the Dodgers are now going to miss–and with the lack of production from the new additions, this team is going nowhere.
That's not to say that the future isn't bright. I think the Dodgers are the team to beat in the NL West… next year. With a full season of Gonzalez and Ramirez to go along with Matt Kemp and Andre Either, as well as the returns of Carl Crawford from injury and Josh Beckett from an even year, LA has one of the most powerful core groups in the game.
This year, things didn't fall right and they are destined to check World Series box scores from their smart phones on the golf course. But that doesn't change the fact that this ownership group is committed to winning and will do what it takes to bring the World Series crown to Chavez Ravine.
Stat of the Day: On this date–September 17th–in 1996, Hideo Nomo threw a no hitter for the Dodgers; his first and the team's last.