Starting David Ross Is Absolutely The Right Call For The Braves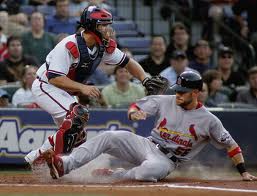 The Atlanta Braves and St. Louis Cardinals are set to square off at 5:07 pm (ET) today in the first Wild card round, a one game, winner-take-all affair.  It's sure to be a great show, with managers over-managing, players playing their hearts out, fans fanning, and ushers ushering at their best.  Everyone will be on their game, except Braves 6-time All-Star catcher Brian McCann, who has been replaced in the starting lineup by David Ross, a 35 year old journeyman with a career .238 average.  And I'm here to tell you that that is the correct move.
Brian McCann hasn't been the All-Star Brian McCann for most of the year. Perhaps his impending shoulder surgery (nerve impingement in his right shoulder) has something to do with it, but the fact remains.  Whether it's the shoulder or something more (less?) sinister, McCann has become a dead pull hitter, incapable of getting full extension on anything, and especially susceptible to pitches away.  In the past, he's driven those balls over the left field wall a la Jim Thome.  True, I only pretend to be a scout, but I watch the Braves religiously and McCan's 2012 heat map backs up my point.
On the other hand, David Ross has been quite good this year.  He's got 9 home runs in 196 plate appearances and is a better defensive catcher than McCann.  Ross threw out 44% of would be base-stealers to McCann's 24%.  When asked about it, Braves manager Fredi Gonzalez said that the Cardinals' aggressive base-running style was the driving factor behind the switch.  But really, the truth is in the results.  David Ross is starting and Brian McCann is sitting because right now, David Ross is a better option than Brian McCann.
Braves Lineup
CF Michael Bourn
LF Martin Prado
RF Jason Heyward
3B Chipper Jones
1B Freddie Freeman
C Brian McCann David Ross
2B Dan Uggla
SS Andrelton Simmons
The Braves have won this season without McCann's bat, so it makes sense go for defense against a strong running team.  It also frees Gonzalez to get creative with some traditional NL-style managerial gamesmanship.  I'm sure we'll see McCann come off the bench in this game.  Obviously, as a pinch hitter he's intimidating to any reliever, and it will certainly provide a tremendous boost to the Atlanta crowd.  However, there is even more at play.
St. Louis carries only two left handed relievers.  Mark Rzepczynski is very good, but Sam Freeman is a rookie with an ERA of 5.40 and a 1.35 WHIP.  With a lefty-heavy Braves lineup, Gonzalez will be able to force Mike Matheney's hand by using McCann in a pinch hitting role.  If Gonzalez goes to McCann early, Matheney will have to choose betwen three gloomy options: burn his one good lefty and risk a Heyward or Freeman situation later; go to an iffy-at-best rookie against an All-Star slugger; or stick with his starter in what I imagine would have to be a tough spot if McCann is getting a shot.
Like I said, this game will feature managers over-managing.
So, it wouldn't be Off The Bench if we didn't make an entirely Bold Prediction…. Braves 4, Cardinals 4 through 10.  Walkoff by Jason Heyward. Braves 5, Cardinals 4.
Stat of the Day: St. Louis is tops in the NL in team OBP