The Official Off The Bench Awards Ballot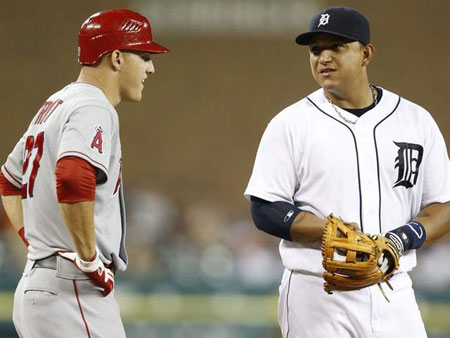 The moment you've all been waiting for! This needs no introduction.
American League Manager of the Year: Buck Showalter, Orioles. The incredible year that the Oakland A's had under Bob Melvin can't be discounted or forgotten, but Showalter was the best in baseball this season. The A's over-achieved, but they did so in a fairly boilerplate manner. Reddick and Ross exploded, Cespedes was solid, and a young pitching staff out-produced predictions. Bob Melvin did well, but he rode the wave.
The Orioles, on the other hand, were mixed, matched, and maneuvered by a skipper opperating in the zone. Baltimore's Pythagorean win-loss, a measure of how many games the team should win based on run differential and a few other things, says that the O's should have been 82-80 this year. Instead they finished at 93-69, tied for the third best record in the league. Showalter managed to an extreme. Only one pitcher on the roster had more than 20 starts, and according to the manager, the ace of the staff was whichever guy got the ball each day. Showalter was incredible this season, perhaps one of the best managing displays ever. He deserves this award.
National League Manager of the Year: Davey Johnson, Washington Nationals. The Nationals were expected to be pretty talented, but needed some things to come together for the year to work out like it did. The Nats had the best record in baseball despite a 19 year old batting second, their cleanup hitter  out for most of the first 90 games, and Stephen Strasburg's shutdown. The job Mr. Johnson has done with this ball club is impressive, at least more so than what any other National League manager has done. (Ozzie Guillen's performance in Miami was pretty impressive, too.)
American League Rookie of the Year: Mike Trout. This one is easy. Mike Trout will get every first place vote for this award, as well he should. Let's quickly take a look at the year for a couple other AL rookies. Yoenis Cespedes was second to Trout in every triple crown category, sporting a .292 AVG, 23 bombs, 82 RBIs as well as 16 steals. The A's were way above .500 with him and way below .500 without him. He's the ROY in a year that the planets did not align, and the zodiac is not stuck on trout. Manny Machado played 51 games, making him ineligible for the ROY next season. This year, however, he hit .262 with 7 hrs and 26 RBI while playing stellar defense at third base (he's a natural shortstop) and helping push the Orioles into the postseason.
National League Rookie of the Year: Bryce Harper. This wasn't an easy decision. Many NL rookies had excellent years; most will be forgotten in the shadow of Trout's historics. Wade Miley, pitcher for the Dbacks, and Todd Frazier 3rd basemen for the Reds, both had very respectable seasons. But Bryce Harper, the most hyped rookie in a while ever, is truly the guy who deserves to win. Harper didn't do to NL pitching what his bro did to that of the AL, but he was a lot better than you might think. In a 533 AB season, Harper hit 22 homers, stole 18 bags, and scored 98 runs. He played an excellent center field and ran the bases very effectively for the Nats. If his name wasn't Harper and we didn't all expect the world from him, any rookie with his numbers and his value would be the ROY without question.
American League Reliever of the Year: Fernando Rodney. Rodney pitched 74.2 innings this season and surrendered 5 earned runs. Really, I should stop writing right there. If that's not enough for you, how about Rodney's 48 saves, his 0.77 WHIP, and his 76/15 K/BB ratio? Or what about the fact that his 0.60 ERA is the lowest in such a high number of innings since Dennis Eckersley had a 0.61 ERA in 73.1 innings in 1990. Wait, that's still not better than Rodney.
National League Reliever of the Year: Craig Kimbrel. Kimbrel led the league in saves again, but in much more dominating fashion this year. His 1.01 ERA shouts dominance, but it's his peripheral stats that indicate the record setting performance that has Kimbrel in Cy Young discussions. He faced 231 batters this year and struck out 116 of them–over half (half!). He had an 0.65 WHIP, and he faced 71 batters with runners on base and allowed a hit to just four of them. With runners in scoring position, he faced 29 batters and given up a hit to just one. Of his last 128 outs, 84 of them came by strikeouts. Hitters looked thoroughly over matched throughout the year and Kimbrel had the command to go with his great stuff (62.2 innings, 14 walks).
American League Cy Young: Justin Verlander. Verlander had one of the greatest seasons in history last year and he was duly awarded the MVP in addition to the Cy Young award. This year, Verlander wasn't as dominant so it seems he slipped under the radar a little bit (believe it or not). However, he was still the best pitcher in the AL. JV led the league in innings and strikeouts, averaging more than a K per IP. He also posted an impressive 2.64 ERA and was again the workhorse who gave the bullpen an off day, and his team the advantage every game he played. He well deserves his second straight CY Young award. Other guys who should get a few votes include Jared Weaver, David Price, and though he had a rough last month, Felix Hernandez.
National League Cy Young: RA Dickey. There are a few guys who have legitimate claims to this year's NL Award: Craig Kimbrel, Clayton Kershaw, Johnny Cueto, Gio Gonzalez, and even Aroldis Chapman can all make a case. Dickey, however, is the most deserving, despite playing for the lowly Mets. Dickey lead the NL in innings, starts, complete games, shutouts, batters faced, and strikeouts. With his unique and nearly unhittable knuckleball he was a workhorse, able to compile some uniquely amazing stats; paramount would be his 44.2 inning scoreless streak on a terrible team.
Now we come to the ballot that really matters at Off The Bench. We like to think of ourselves as espousing an old school approach with a young man's flair; baseball purists with a penchant for sabermetrics. But the MVP race is about much more than the statistics on either side of the argument. It goes beyond what makes a player "Most Valuable" and, this year more than most any before it, must become a debate surrounding historical significance.
American League MVP:
 Mike Trout
 Miguel Cabrera
 Yoenis Cespedes
 Adrian Beltre
 Derek Jeter
 Adam Jones
 Prince Fielder
 Fernando Rodney
 Robinson Cano
 Josh Hamilton
Miguel Cabrera won the first triple crown since Carl Yastremski in 1967. Offensively, he was methodically monstrous, hitting .330, with 44 homers and 139 RBI. There can be no argument about the prowess of that performance, nor can anyone–even the most new-agey, computer-freakish, baseball brains–minimize the feat of the triple crown in today's game. But let's remove from the equation, for a moment, the grandeur of the triple crown and look at the numbers in a purely statistical light. In 1999, Manny Ramirez matched Miguel Cabrera's 2012 line; Babe Ruth matched it six times. Meanwhile, a 20 year old rookie named Mike Trout did something nobody in the history of the game has done. He hit 30 homers, stole 49 bases, batted .326, and scored 129 runs. Nobody has ever done that. Ever. And that deserves an MVP award.
National League MVP: 
Yadier Molina
Buster Posey
Ryan Braun
Andrew McCutchen
Craig Kimbrel
Chase Headley
RA Dickey
David Wright
Joey Votto
Ian Desmond
Buster Posey had a phenomenal season. He won the batting title and is the heart and soul of the improbable Giants. Just because he's not the MOST valuable player in the NL doesn't mean he's not valuable. Posey deserves votes for sure, and the same is true for Ryan Braun. Braun was 40-30 this season and was probably better than his MVP campaign last year. Andrew McCutchen was unstoppable for about 75% of the season, but then the Pirates did what the Pirates do, and his chances went out the window with their record.
Yadier Molina is the best defensive catcher in baseball. Aside from running the Cardinals pitching staff in an largely-unquantifiable-but-generally-understood-to-be-awesome fashion, he threw out 48% of runners stupid enough to try and steal against him. (He's led the league in that category three times, including in 2005 when he threw out an absurd 64%.) He can also swing the bat a little bit, hitting at a .313 clip and adding a career-best 22 bombs. Oh, and he stole 12 bases, the most of any catcher in baseball. He's an all around, 5 4.5-tool threat, and there is no player quite like him in baseball. He's the MVP.
-Staff