A Week Old Hodge-Podge Of Miscellaneous Notes On Many Subjects
Updated: October 16, 2012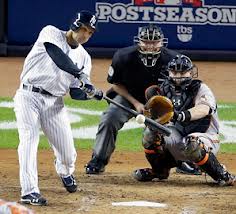 First things first, these division series are what the wild card round was supposed to be. Four for four on game fives, some epic late game moves, walk-offs and controversial decisions that paid off. So I am here to talk about a few of the things from these series that have caught my eye.
A-rod got pulled in the 9th by Joe Girardi and his replacement hit a home run to tie the game, then hit a second to win the game later. This was a terrible decision from the outside looking in, then it looked like the greatest postseason move ever after it worked out. But I'm here to tell you that this was secretly a great move that worked out better than it should have. As the great sage Yogi Berra once said, "90% of the game is half mental." We all know that A-rod has had some mental issues regarding his game in the past, but what some of you may not know is that A-rod has been using a sports psychologist since 1996 with the Mariners. What does this have to do with Girardi's decision? A-rod was slumping and sometimes players need a shock to their system to get them going again, this was that move. The Yankees were most likely going to lose, odds were not in favor of A-rod doing anything to help them and the only possible outcomes were: Girardi looks like a genius; or, they lose a game they were supposed to. With that said, benching him for Game 5 is not something I would have done. This is a win or go home game and you need your best players on the field, and Girardi already gave A-rod the shock to his system, sitting him for the next game won't (and didn't) have the same effect.
Jeter should have taken himself out of the game. It seems sacrilegious to tell a player to pull themselves out, but the best thing a player can do for his teammates is to know when he is hurting their chances of winning. Jeter playing shortstop was a terrible decision as he already not good defensively and he lost range after his bruise. He also is not the same hitter he used to be and cannot make up the difference with his bat anymore.
Tim Lincecum should have started Game 4 of the NLDS, and needs to start in the NLCS. Lincecum had a terrible first half, but his second half was substantially better. His end of season run was actually pretty good. Pot heads also have a knack for being able to focus on important events despite not having the ability to focus on unimportant ones. (Seattle area plus UW connections…. people I know have partied with Big Time Timmy Jim–don't think I'm making assumptions.)
Clutch is not a statistic that matters. There are instances of clutch, like Ibanez this series and David Ortiz back in the day, but the ability to be better when the game is on the line is not something that is sustainable. Had we given 100 instances of the same scenario to both A-rod and Ibanez, A-rod would have performed better than Ibanez because he is a better hitter. That's the way the world works.
Leave Mike Vick alone about his dog. I am a dog owner and I love my dog as well as all dogs that weigh above 30 pounds (and some below 30) but Vick  is a grown ass man and we need to leave his personal life out of the public sphere these days. He did his time–actually, he spent more time in prison than Ray Lewis did for killing two guys. He has made some legitimate efforts to help animal humane societies. I think he may be a changed man, but even if he isn't, we need to leave him alone.
The Nationals should have let Strasburg pitch. He is one of the best pitchers in the league and winning a playoff series is more valuable than having an injury prone pitcher possibly pitch a few more seasons. With that said, had he pitched in this series they might not be in any better position. One player does not make a series, but he could have helped.
Finally as a Mariner's fan I was rooting for the O's. Now though, I'm rooting for Ichiro winning a World Series. After that, I couldn't care less about who wins as long as there are good games to watch.
-David Ringold
@dhringold