The End Of An A-Rod Era: Rodriguez To The Marlins And More Media Stupidity
Updated: October 17, 2012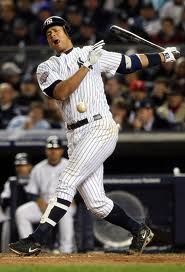 Today, Keith Olberman and Dan Duquette Jr. reported that the New York Yankees are in conversations with the Miami Marlins about potentially moving superstar slugger Alex Rodriguez to South Beach. If I could, I'd like to start there. How on earth could these two crack reporters possibly know this, and how could it be true? I don't dispute that the Yanks might very well want to move A-Rod this winter and that Miami might be a realistic destination–I'll get to that in a minute–but the idea that Yankees General Manager Brian Cashman would be having an actual discussion with Marlins brass in the middle of an ALCS IN WHICH HIS TEAM AND THIS PLAYER ARE CURRENTLY PLAYING is beyond ridiculous. It's almost as preposterous as someone in the Yankee organization actually telling two different reporters that conversation was going on. In fact, Cashman denied the reports, saying point blank that the stories were "false." I don't know what sources these reporters used but it sounds a lot like rumor to me, and I'm a blogger so I would know.
Now, on to the actual substance of this stupid rumor and whether or not this idea makes any sense. Short answer, it does. The minute the Yankees pinch hit for Rodriguez it spelled the beginning of the end for the A-Rod's time in New York. Rodriguez's precipitous decline has been well documented and so I won't go into it here. Suffice to say it will certainly be an issue for him going forward, but that's not the problem in New York right now. The problem is, and always has been, that with the exception of 2009, A-Rod hasn't hit in the postseason and he's disappeared in the biggest, clutchest moments.
Well, there's another problem too, actually. A-Rod is a ham. From pictures of him as a centaur to kissing himself in the mirror in a magazine to problems with Jeter to problems with Torre to calling popups as a runner to smacking balls out of fielders mitts it's enough already. The fans have long since turned on Rodriguez, making every good thing he's done the last couple seasons almost bittersweet. Now that he's not performing at all, he's not worth the trouble.
The Yankee's have clearly decided they are prepared to move in another direction. A-Rod was out of the lineup yesterday and he's out of it again today in the most important two games of the Yankee's season. It's most certainly time for these two parties to separate.
So let's get to the logistics of that divorce. A-Rod is owed about $114 million over the next five years, excluding the crazy home run bonuses he's scheduled to receive. He's turned into, in the absolute best case, a .270, 20 homer, defensive third basemen. That, in itself is valuable, but nowhere near worth upwards of $20 million a year for five more seasons. In order to move the guy, the Yankees would have to eat a huge chunk of his contract. Assuming they're willing to absorb at least 60% or 70% of the remaining cash, the Marlins wouldn't be a bad spot.
A-Rod is from South Florida. The baseball field at the University of Miami is named after him. He is hispanic and the Marlins are all in on this "Appeal to the Latino community even if it means we have to have this crappy, blowhard manager and it costs us games" strategy, so that works too. They also have some decent pieces to send in return.
Obviously, getting rid of A-Rod would be the big motivation for this trade but the Yanks would want some talent in return and the Marlins would love to do what they do best: dump big contracts. Two names come immediately to mind. The first is Heath Bell. After an atrocious season in which he was deposed as closer every other week, and then insulted Ozzie Guillen publicly and viciously, Bell has got to go from the Marlins. The team would be more than happy to send him to the Bronx. The Yankees could use him as Mariano Rivera insurance much the way that Rafael Soriano was used this year (Soriano will be a free agent) and won't mind his salary.
The other name is Jose Reyes. Reyes' return to New York would be an epic blockbuster and might make Mike Francesa explode, but would be really interesting and might make some real sense. The Marlins would be dumping a ton of salary swapping Reyes for Rodriguez (thanks to the Yankees' accompanying check) and would be adequately replacing the star factor of Jose with an even bigger one in Alex. For the Yankees, Derek Jeter's ankle injury might spell the end of his time at shortstop (and it's about time). Perhaps he could really benefit from a move to either third to replace A-Rod or rightfield to replace the free agent Nick Swisher. Could you imagine a Yankee team with Granderson in center, Gardner in left, and Jeter in right, with Ichiro as the fourth outfielder and Jose Reyes and Robinson Cano up the middle? That sounds kind of exciting.
Stat of the Day: Miguel Cabrera just passed Hank Greenberg for the longest postseason hitting streak in Tigers' history