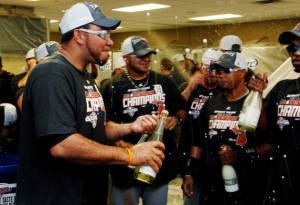 Max Scherzer threw 5.2 innings of one run ball, striking out his customary 10. Miguel Cabrera blasted a monster shot off C.C. Sabathia. Jhonny Peralta hit two. The top eight slots in the lineup notched hits, and six of them had more than one. Basically, Detroit is firing on all cylinders. The Yankees never led in the entire series.
After a tremendous stretch run to win the AL Central (that we called before the season and then stood by it as the season wound down), the Detroit Tigers were just getting started. The Oakland A's put up a great fight in the ALDS, but it was the Tigers all the way. Oakland's two wins were epic, but at the cost of the last bit of fairy dust that had gotten them through the year. When it came down to Game 5, Verlander gave them a Verlander sandwich and sent them packing.
After that, Detroit dug into the hot sauce. Jhonny Peralta went 7 for 18 and played lights out defense. He should be the series MVP. Cabrera was methodical, setting the LCS record for consecutive games with a hit. Verlander, though he didn't have his best stuff, still dominated in his only start. Yes, the Yankees were doing their best Red Sox impression for all four games (in terms of performance and media malarky alike), but Detroit flat out rolled.
Congratulations, Detroit Tigers, winners of the American League Pennant.
-Ari Glantz