Adam Dunn And Walking Your Way To Excellence
Updated: October 20, 2012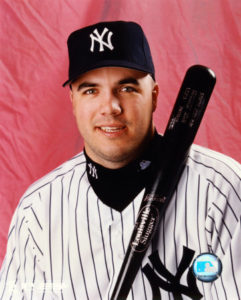 Adam Dunn just had one of the more unique seasons in recent memory.  He lead the majors in walk rate and strikeout rate, and managed to post a double slash of .204/.333 (that's AVG and OBP, in case the numbers were confusing), and had 110 hits, with 105 walks.  What's more he managed just 69 non-homer hits. Dunn reached base in a third of his at bats despite also striking out in a third of them  The question becomes how this stacks up with some of the more prolific walking seasons in Major League history.  We must give credit where credit is due, and tell you that much of this research comes courtesy of a friend of a friend of Off The Bench, who was looking at what Nick Johnson was able to accomplish in his last year as a Yankee.
While we're on the subject of Nick Johnson, let's talk about that 2010 campaign with the Yankees.  It was short lived, only 98 plate appearances.  But, the Contemporary God of Walks managed 24 free passes, while only compiling 12 hits. He hit .167 (terrible), with a .388 OBP, a figure that is more than good.
Of course any discussion of walking your way to excellence has to include Barry Bonds' 2004.  Dude managed to walk 232 times along with his 135 hits.  It resulted in one of the more mind-numbing statistics in sports lore: .609 OBP.  But, that campaign is not in the spirit of Nick Johnson.  Not even a little bit.  Johnson was a mediocre hitter at best.  He was hitting .167 and pitchers still messed up enough times to walk him 23% of the time.  He wasn't a good hitter in the same respect that Barry Bonds and Adam Dunn was/is.  Both of those guys make a pitcher pay for a mistake over the middle and therefore force pitchers to try and paint corners.  Nick Johnson just took pitches.
Some other seasons of interest:
Brian Giles 2002: 135 walks, 148 hits, .298 average and .450 OBP

Mark McGwire 2000: 76 walks, 72 hits, .305 average and .483 OBP

Mark McGwire 2001:  56 walks, 56 hits, .187 average .316 OBP
Think about it: Mark McGwire was a 37 year old hitting .187 and still managed to walk himself to a very respectable year with a .316 OBP; it should be noted that he clubbed 29 bombs, so this idea about the pitcher being afraid to throw a strike continues.
I'm more interested in the guys where walking is their only excellent quality and they manage to put up an excellent season.  Denis Menke 1973: .191 AVG, .368 OBP; 46 hits, 3 homeruns.  Menke played in a different time, where strikeouts and walks were far less frequent.  His season was incredibly impressive.  How about John Jaha 2000: .175 AVG, .398 OBP.
These types of seasons are all over the place and I really don't get how a league full of men dedicated to pitching allow the numbers to happen.  I mean think about it, there were 14,709 walks this year in the Major Leagues.  That's unacceptable.
We need a shift in the allowable number of walks.  Managers stick very strictly to the 100 pitch limit throughout the year.  Why not add a three walk limit.  As soon as a pitcher walks his third guy, he's out.  Done.  It would, at the very least, limit the number of Nick Johnson's with a job.  I have to wonder if that's a bad thing though.  I mean seasons where a guy walks twice as often as he gets a hit are awesome.
And that is something to chew on while we go a whole day without baseball.
Stat of the Day: Nick Johnson played for the Orioles this year.