Pablo Sandoval Joins Albert Pujols, Reggie Jackson, And Babe Ruth In World Series 3 HR Game Club
Updated: October 24, 2012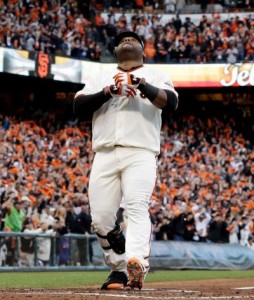 Unbelievable does not even begin to describe it. Pablo Sandoval had 12 homers in the regular season. In the postseason? Six… so far. In the World Series? Three… and Game 1 just fished up the fifth inning. Watching a hitter in the zone is something special, and right now we have the opportunity to see the free swinging Sandoval doing something special. He is locked in.
Verlander didn't have his best stuff early, but the Panda didn't hit meatballs. He stayed on top of a Verlander fastball in the first, driving a low shot to center. In the third, he waited on something offspeed and laced it opposite field.
Stay tuned folks; this is a special night.
The best part is he's probably got two more chances to hit.
-Ari Glantz
Stat of the Moment: Look at the title