The Josh Hamilton Chain Reaction: The Worlds of Jacoby Ellsbury, Elvis Andrus, the Red Sox, Rangers, and Blue Jays Collide
Updated: October 24, 2012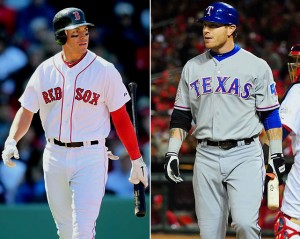 The Texas Rangers, Boston Red Sox, and Toronto Blue Jays each entered 2012 with high expectations. Texas had been to two straight World Series, Boston was looking for redemption, and Toronto still had Jose Bautista. Suffice to say: Expectations went unmet. For the Jays and Sox, promise quickly devolved into despair as one dumped dead weight and money and the other saw their All-Star literally go down swinging. For the Rangers, the End Times did not descend as soon, but all told, 2012 might have been harder to swallow. In all three cases, Opening Day rosters are guaranteed to look strikingly different from those of the year past. The question now is who goes where?
There are a few ways this could all shake out, a few ways it definitely won't shake out, and one particular way I pray nightly it doesn't shake out. Let's start with the obvious.
The feeling in baseball is that Josh Hamilton will not return to the Texas Rangers. So where will he land? First I'll cover one possibility that might seem logical on the surface, but will–I truly believe–spell the actual, biblical, apocalypse.
The Red Sox, as we all know, recently trimmed some roster fat and freed up a few dollars in process. By a few dollars, I of course mean (approximately) $400 million. Conventional wisdom, at least in the world of east coast baseball powerhouses, says spend, spend, spend. Conventional-er wisdom says spend on the best player available, and conventional-est wisdom says replace all the RBI and (alleged) home runs you lost in Adrian Gonzalez, with someone similar. I think we can all see where this is going.
I say: let it go no further. Josh Hamilton to the Red Sox does no one any good. Not the team, not the player, not the city, and not the game. Here's how this would go down.
Hamilton would sign for way more than he'd be worth without the baggage and injury history, and way way way more than he's worth with it. (Bad for the game.) The Boston media would absolutely shred the organization for such a foolhardy signing, setting a terrible tone for the beginning of the Hamilton era. (Bad for the player.) Hamilton would suck/under-perform/get hurt. (Bad for the team.) Hamilton would go out, and be simultaneously berated by the townsfolk and invited to drink with them. Which he would, and the national media would write all about it. (Bad for the city.) To sum it up in one sentence: you would have an overpaid, under-performing player whose life would spin horribly out of control, further vilifying a city that everyone already hates. And the Sox would suck. Again.
So the Red Sox are out, but other suiters will certainly surface. One that people might not mention much: the Toronto Blue Jays. Now, this is a blog not a news source, so don't jump out of your undies over this, but do think about it. It makes a ton of sense for quite a few reasons. Let's look at it on the surface first.
First off: Jose Bautista, Josh Hamilton, Edwin Encarnacion. That's about 120 home runs and 300 RBI. There've been a lot of great one-two punches in the last decade–Manny/Ortiz, Pujols/Holiday, Fielder/Cabrera—but nothing like that one-two-three. Second, the move gives Hamilton positional options going forward. With the injury concerns that have plagued him, the ability to decrease wear is paramount. Immediately, he can slide over to left and give the Jays a slight defensive upgrade over Rajai Davis (who would become the fourth outfielder). Encarnacion's  relative versatility (82 games at DH, 68 at first, three in left field) allows Hamilton to DH with regularity. Finally, the Blue Jays do not have any top prospects at either corner infield position, leaving the door open for the much-discussed transition to first base.
But this is Josh Hamilton we're talking about, a man with well-documented demons; there is much more to consider. For all the same reasons Boston is the worst place for him, Canada is the best. (I am being serious.) In Boston, people live and breath baseball and the media is bloodthirsty. In Toronto, people like hockey and the media is comparatively civil. In Toronto, Josh Hamilton could walk down the street in peace. Someone might occasionally ask if he enjoyed the brees. In Boston, he'd be harassed daily about enjoying beers.
Finally, let's think about a factor that has dictated far too many trades in the past few years: fan reaction. In Boston, bringing in a guy like Josh Hamilton would be lambasted and seen as one more giant, risky contract; a continuation of the trend. In Toronto, it would be cheered and hailed as a commitment to winning; the dawning of a new era. It might even get a few more people to the ballpark. It's a perfect fit.
Only two factors would give the Hamilton camp any kind of pause: artificial turf and Josh Hamilton not being satisfied with his miraculous resurrection (intentional word choice), demanding more money than the Jays can pay, and generally disregarding his longterm well-being for a few (million) more dollars and an ego boost.
Let's assume that this deal goes through, because really, after that explanation how could it not? (I'm not being serious.) Hamilton is out in Texas, leaving a void in the Rangers' outfield and a burning wad in Nolan Ryan's wallet. There is not too much available on the free agent market, and certainly nothing with the production ceiling or name recognition of Josh Hamilton. A trade seems in order.
It just so happens that those same Red Sox have a center fielder in Jacoby Ellsbury who has decent name recognition and a very high production ceiling (no, not Hamiltonian, but MVP caliber in its own right). He's in the last year of his contract and will almost certainly depart Boston at his earliest convenience. (It would take a massive overpay for the Red Sox to keep him.) Ellsbury is not Josh Hamilton, but he is a top tier center fielder who could make Hamilton's absence more palatable.
But what would it take to pry him from the Sox? Boston just made a rare player move and sent their 2012 shortstop to Toronto for manager John Farrell. In September, the highly touted Jose Iglesias confirmed the fears of many in the organization by hitting a paltry .118 over 25 games. Translation: the Red Sox need a shortstop. Guess what? The Rangers are swimming in those. Jurikson Profar is baseball's top rated prospect and Elvis Andrus is a two time All-Star with two years left on his deal. The Rangers have a bit of a shortstop controversy on their hands. Funny how this all seems to work out.
Texas will not part with Profar, but Andrus makes great trade bait. It will take more than just Ellsbury, but the Red Sox can afford to spare a prospect. It's unlikely they'd be willing to throw a good arm in the deal, but they have an abundance of quality positional prospects. With the likes of Bryce Brentz and Jackie Bradley knocking on the door, Boston will be able to replace Ellsbury internally and still have outfield depth on the farm. Look for someone like Juan Carlos Linares or Kolbrin Vitek to head out with Jacoby.
To wrap this thing up, here's one long closing statement, debate style: Players will move this offseason, the question is where? These three teams all need to make moves, and it might just work out where one thing leads to another. We could see something unprecedented if Josh Hamilton takes a pay cut for his longterm health, and it would open the door for a mutually beneficial trade between Boston and Texas. As a baseball fan, I hope this goes down (and not just because I would look like the man).
Stat of the Day: According to the Ari's Sports Bureau, Hunter Pence is the only player in history to hit the ball three times in one swing, and double in the same at-bat.