Hurricane Warning: Tigers Blown Away As Giants Win World Series
Updated: October 28, 2012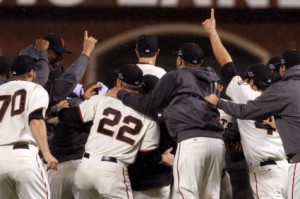 It's the top of the ninth, Phil Coke struck out the first man he faced. Brandon Belt steps in. He battles, a few good swings to work the count full–then goes down swinging in kind. Gregor Blanco is next and Coke gets ahead with a fastball. A setup pitch, and now it's one and two. The big hook freezes Blanco and the last six batters–Tigers and Giants–have been returned to the bench via strikeout. This is the World Series.
I'm sitting at home, eagerly awaiting Frankenstorm's arrival. I've got my canned soup, beer, and window tape organized. No work tomorrow, baseball all night. Excellent.
Jeremy Affeldt returns to the mound. Gets ahead to leadoff man Andy Dirks, and he goes down swinging. Seven consecutive outs by the K. Impressive. Peralta stands in and lofts a high fly to center. The winds do their best to push it, but Angel Pagan tracks it down. Affeldt exits.
What will this storm actually bring us here in Boston? My instinct is lots of rain and not much else, but I have the governor's press conference on in the background and he seems concerned. 'Gather your children and heirlooms' type stuff. But how much of that is just political butt-covering? I guess we'll find out soon–touchdown is scheduled for 2:00 am.
Casilla in to face Infante and he drills him in the arm. Infante is not happy and neither is Detroit. A 3-3 game in the ninth is not a good time to lose players off the bench, but Leyland would trade it for a win. No such luck as Laird grounds to third. Extra inning baseball people, I couldn't think of a better way to welcome in the weather.
I have this theory that Frankenstorm is going to be good for the economy. It gets people to buy "preparation supplies." Unless it really becomes a devastating natural disaster-intensity event, it'll do enough damage to necessitate people to clean it up. I guess Comcast and Verizon won't fare so well.
Ryan Theriot leads it off with a single! Is this beginning of the magic? After some indecision, Brandon Crawford returns to the batter's box and lays down a gorgeous sacrifice. Angel Pagan is up looking for redemption on an 2-18 run. Coke paints on the first pitch and Pagan fails to check the swing. Coke wildness peeks out on the second pitch and Theriot takes a look at third but stays put. The count is 1-2 as Pagan steps out. The tension builds. A weak wave and Pagan's frustrations continue. It's up to Marco Scutaro. The Giants like that. Heroics are this man's job and he gets ahead 3-1 before proving it. Scutaro's mammoth postseason continues as he drives in Theriot and brings Detroit to the brink. Sandoval grounds out to third but the damage is done: Giants lead 4-3 and hand the ball to their new feisty fireman Sergio Romo.
It looks like the winds of change wil not be glimpsed tonight. Instead, the gale is poised to blow the Tigers into the offseason. Hopefully this is a good sign for my prospects of surviving Hurricane Sandy. Maybe not, though.
It's up to Sergio Romo to photobomb the Tigers season. In his way stand the top of the order. Austin Jackson needs to set the table but is behind on consecutive sliders. Down he goes, slider again. Romo is doing his best Rivera–everyone knows the slider is coming but resistance is futile. Don Kelly looks to switch up the viewpoint form the left side, but he hasn't batted in the whole postseason. The slider is too enticing. Steady diet, strikeout. It's up to the triple crown winner. The season comes down to this. Strike one, slider. Ball one, slider. Strike two swinging–on a slider.
This is nuts my heart is pounding. The storm is coming.
Count isn even, 2-2.
Hurricane!
Foul ball! Reload!
FRANKENSTORM!
CABRERA STRIKES OUT! FASTBALL DOWN THE MIDDLE! GIANTS BLOW DETROIT AWAY AND WIN THE WORLD SERIES!