The Best Division In Baseball Can't Possibly Be The NL West… Or Can It?
Updated: October 30, 2012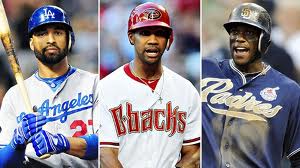 Widely regarded as the weakest division in baseball, the NL West recently captured their second World Series title in three years thanks to the San Francisco Giants.  This led to a friend of the blog proudly contending that the NL West really isn't the worst division in baseball, and that if you look at recent success rates in the postseason teams from that division have actually met with equal of more success than the other divisions.  Well, as we do here at Off The Bench, we looked it up.  Our friend (a Padres fan, god bless him) alleged that starting in 1998 (with the success of the Padres), the NL West has been consistently present in the later rounds of the postseason.  As a Braves fan, I decided to start my research in 1995 and go from there.
I used the wonderful, ever-improving baseball-reference.com, and found a lovely page.  It tracked Wild Card titles, Pennants, and World Series champs for each division, and I assigned a point value to each achievement.  Each division got a score based on the number of representative teams for each honor.  The results were less than exciting for those of us who hate the evil empires in the AL East (yeah, I went plural there Boston).  Here are the scores for each division:
| | |
| --- | --- |
| AL East | 31 |
| AL Central | 8 |
| AL West | 8 |
| NL East | 18 |
| NL Central | 13 |
| NL West | 15 |
Clearly, the Yankees' five World Series have affected the results, as have the Red Sox' two titles and host of Wild Card appearances.  Still, our friend's argument seems valid.  The NL West, since 1995 has the third most points by division, which is above average.  So why the bad rap?
The NL West lost credibility in 2005 when the Padres won the division with an 82-80 record and were subsequently swept out of the playoffs.  It looks like things have changed since then.  I venture that it's time to stop considering the NL West an inferior division and recognize that maybe, just maybe, the Giants will be a dynasty for the next decade.
To the argument at hand, calling the NL West the best division in baseball over the last 18 years is incorrect; the reviled AL East still holds that classification.  But things are changing out West and considering them the worst is even further from the truth.
Stat of the Day:  The career assists leader is Rabbit Maranville with 8967.  The active leader is Omar Vizquel with 8050.