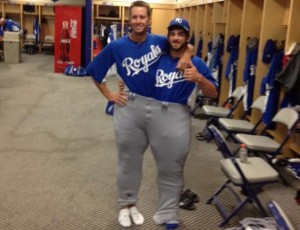 Let me be clear: I do not trust Dayton Moore. He took over the Royals in 2006, and since that time the most wins they've ever had in a single season is 75. It semi-perplexes me that he still has a job. In seven seasons at the helm of a once-great franchise, Moore has made zero improvements. I think he got off easy for the Gil Meche fiasco and didn't take nearly enough flak for the Wil Meyers-Jeff Franceour thing last year. We won't even get into Melky Cabrera for Jonathan Sanchez.
However, he does draft well. The Royals have one of the most potent young cores in the game and they seem poised for exciting things. The problem? All of their good, young pieces are positon players. The pitching staffs are a mess at all levels of the organization. Having realized this, Moore has made starting pitching his number one priority for this winter. That's good, but he's said that he may need to trade one of his key young players to do it. He may be right, but that is bad. Moore put himself in this situation.
Now, to the title of this post. I think the Royals' acquisition of Ervin Santana for a 27 year old minor league reliever was a coup. A great, savvy move. Santana is veteran pitcher who can bring stability to this staff. However, I still have concerns.
Moore says that this trade is just the beginning and I hope he's telling the truth. In all honesty, this deal reeks of that old Royals futility. This is the kind of thing the 2007 Royals did when they brought in Meche. They made a deal to say they made a deal. "Look fans! We paid $55 million for a shiny new starting pitcher! Please ignore the fact that it's Gil Meche! You should definitely still support the team!"
Doesn't this trade feel like the same thing? " Look fans! We made a trade for a stating pitcher you've definitely heard of! See, we're definitely trying to win!"
Santana led the league in home runs surrendered last season and he's now pitching in a division that features Miguel Cabrera, Prince Fielder, Adam Dunn, and Paul Konerko. (I'm not sure if Justin Morneau should still be on that list, but he's there too.) Sure, Santana was an All-Star and finished in the top 10 in the Cy Young voting in 2008, but since then he's had two full seasons with an ERA over 5.00, including last year.
Let's just say I'm a little suspicious of this trade. If the Royals are truly committed to winning and not just the appearance of that commitment (to keep revenue up), they'll have to prove it with some more big time moves this winter. The Santana deal is only as good as it is because of what KC gave up (basically nothing, sorry 27-year old minor leaguer's mom), and he alone does not a championship make. It's like the Celtics' acquisition of Ray Allen prior to the 2008 season–without KG, Allen would have meant nothing. Realistically, Santana is a gamble that doesn't fit the team particularly well. If he's not the number three starter next season–followed by Danny Duffy (who could be great) and Jake Odorizzi (who I"m very high on)–Royals fans should be pissed.
-Max Frankel
Stat of the Day: The second sentence of the last paragraph was clearly inspired by the memorable scene in The Departed where Queenan asks Billy Costigan: "do you wanna be a cawp? or do you wanna appeah to be a cawp?"