Saltimbanco Review: Fart Jokes And Filler, Has Cirque Du Soleil Lost Its Mojo?
Updated: November 5, 2012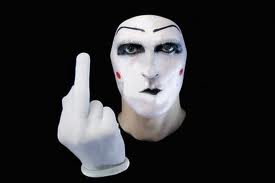 Cirque du Soleil is the Major Leagues of circus performing arts. Across the globe, young acrobats dream of their Cirque debut as little leaguers dream their first at bat in the Bigs. Cirque has not come to such prominence by luck. It has earned its place at the top by staging the best all-around product since its 1984 inception. Since I was about 10 years old–not incidentally the age I joined a circus–I have been addicted to Cirque du Soleil. I've seen shows across the U.S. and a few internationally and I have been awed by each one. Until this afternoon.
The iteration currently on tour in the northeast is dubbed Saltimbanco. It's a reincarnation of the company's longest running show (1992-2006). In Boston, the venue is B.U.'s Agganis Arena (named for Harry Agganis, Boston Red Sox, 1953-54). We can start there. While one may allow that a circus need not always be in a tent–Le Gran Chapiteau, as was Saltimbanco during its first run–it should certainly never be in a lighted basketball/hockey arena. Brightly colored, glowing acrobats are less striking when the stands are as illuminated as the stage. The flying trapeze is far less awe-inspiring when it's at eye level with stadium seats.
But those are just fringe details, nitpickings. Seating and lighting do not a performance derail. What does spoil a show though is tired, unoriginal filler, poor scoring, and a dearth of the artistry that has made Cirque du Soleil what it is. Oh, and toilet humor. That goes a long way toward ruining a show too.
Saltimbanco's first half is a snoozefest for the ages. It opens with a decent dance/partner acrobatics act, unfortunately set to a somber, cello-centric riff. This is followed by a fantastically talented contortionist. The feats of contortion–including a stomach-turning, full-bodyweight-supported-by-the-mouth-with-legs-over-the-head portion–are amazing and fully Cirque-worthy, but the choreography is lacking. The opposite is true for the next act, Chinese pole. The choreography is great, there are lots of performers hopping from pole to pole in synchrony, but the acrobatics themselves are, for Cirque du Soleil, sub-par.
The saving grace of the first half is the juggler. There is not much to say about the man beyond that he is incredible. He alternates between bounce-juggling and traditional patterns, and adds an interactive piece with the assorted minor characters strewn about the stage during his act. A whimsical, transformer-style carriage plays the centerpiece upon which he dances while he juggles.
And then there is the mime. For an eternity. Allegedly representing the child in us all, he prances about, poorly miming inanities for what seems like hours. In reality, he has two separate acts, lasting a total of 17 minutes–far too long for a bad mime to be on stage in Cirque du Soleil. It makes you wonder if they simply couldn't find enough acrobats to fill the time.
The mime's impotence is reflected by the solo trapeze act. This was by far the most epic failure of Saltimabanco's litany of failed experiments. The hapless artist is, quite literally, hung out to dry on an inert trapeze (over which she has less than admirable control–it wobbles and shakes in a very un-Cirque fashion). Upon this trapeze, she flops around listlessly to mournful opera for a few painful minutes before she begins to swing. Judging from the nearly imperceptible uptick in the soundtrack's tempo, this is meant to be the climax. In the moment, one expects breathtaking acts of mid-air daring. Yet on she swings, intermittently executing the same move over and over until she mercifully dismounts. The description may sound harsh, but I assure you it is warranted.
Thankfully, the second half of the show does not demand as pitiless a review as the first. It does not do enough to save Saltimbanco, but it helps ameliorate the sour taste of the squandered ticket price.
Act Two features a interesting take on the traditional circus staple of Poi–the rhythmic, geometrical swinging of tethered weights. Usually, the Poi are brightly colored, or set alight. In Saltimbanco, the performers hit them against the ground, accompanying drums and an live band to create a fascinating dance/instrumental hybrid. Sadly, it lasts too long with too little variation.
The crown jewels of Saltimbaco are Marco and Paulo Lorador, physics-defying hand-to-hand acrobats whose act is part World's Strongest Man, and part ballet. They use each other as apparati, executing one-handed handstands, freezes, and partner balancing acts that would mystify Stephen Hawking. Also, they make mid-1990s Barry Bonds look like mid-1990s Kenny Lofton. And they can do splits. It's bananas.
The final act is not incredible, but it isn't great either. Four acrobats are attached to flamboyant bungy cords, and they bounce from floor to ceiling, flipping within inches of each other. It is beautiful to watch, but not overwhelming. It too plods on past its natural ending, cheapening the final effect.
My complaints with this show are not meant to detract from the performers prowess (excepts for that trapeze act…) as much as they are aimed at the shows organizers, directors, and the corporation in general. Other than the trapeze, each act was still performed by artists of an incredible level, they just weren't put together all that well. Worse yet, there weren't nearly enough of them. The show was replete with filler–like that insufferable mime and his male member jokes–and scant on actual circus art. The acts there were went too long, and were punctuated with tired clowning and incessant banter in made up languages. (That's a Cirque staple, but it's usually far more tasteful and far less present.)
Saltimbanco was a cataclysmic disappointment. On the rare occasions when I was not bowled over by a past Cirque du Soleil show, I have described it as such: "Well, it was still Cirque, so it was better than anything else I've ever seen." For Saltimbanco, I cannot say this. (If you're interested, I recently attended Sequence 8 and was astounded by the level of skill, performance, and artistry.) What is most concerning is that the last Cirque show I saw left me unfulfilled as well. I still rated it "better than anything not-Cirque," but at the time it was the worst Cirque show to date. Is this the trend? The beginning of the end? Hopefully it's just a mistake that someone will soon correct.
Fool me once…
Stat of the Day: 58.2% of the U.S. population voted in the 2008 presidential election. Let's get up over 60% this year. ELECTION DAY TOMORROW PEOPLE