Dear Fox: Get Vin Scully In The Booth For A World Series Game
Updated: November 5, 2012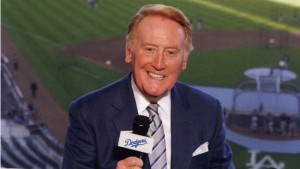 Listening to Joe Buck and Tim McCarver broadcast the NL West San Francisco Giants win the World Series, I couldn't help but wonder what would happen if the Dodgers made the World Series and Vin Scully still had a voice.
Scully, almost 85, grew up in New York and joined the Brooklyn Dodgers in 1950.  His 63 seasons with them is the longest tenure of any broadcaster with a single team in professional sports history and stands as a lifetime in its own right.  He's seen the Dodgers move from Brooklyn to Los Angeles and been a steadfast presence through all six of their World Series titles. He's called games through the O'Malley reign in the ownership box, followed by a brief stint from Fox Entertainment group.  He's watched from behind his microphone as the McCourt divorce threatened a proud franchise, and a twinkle surely came across his eye as the group with Magic Johnson as figurehead poured more money into the franchise than George Steinbrenner would have in his heyday.  Fans have been born, grown up, and died, listening to him.  Vin Scully has been in Dodgers' clubhouses headed by 10 different managers and maintains an incredible sense of respect for, and awe of, the game.
In a recent book, "The Voices of Summer," by Curt Smith, Scully was named baseball's best broadcaster of all time, and rightly so.  His ability to intertwine the complexities of baseball with anecdotes from both his life and those of players on the field, is unparalleled.  And that ability doesn't falter be it April, the long summer months, or October.  Add in the fact that Scully is in the booth by himself–giving color to his own play-by-play–and his broadcasts are syndicated across both TV and radio, and you can see why he's the greatest of all time.
Perhaps most importantly though, Scully is exceptional at involving his audience.  There is not much more pleasure a baseball fan can have than turning on Scully during the first game of a series.  It's those first games that he weaves in the back story that will follow each batter through the next two or three tilts.  His tales are understated but accurate and detailed–he's been in the booth since before any active Major Leaguer was born, so he's seen them all come up.  Scully will tell you what each visiting batter did on Sundays when he was eight years old, and (unlike with Buck and McCarver) you won't miss any baseball. Stay tuned for the last game of the series and you'll hear Grandpa Scully tell stories from the 1950s; Jackie Robinson will be in the Brooklyn Dodgers' clubhouse telling jokes to Pee Wee Reese.  Through 63 campaigns, Scully is hardly biased towards the Dodgers. His pleasure is derived from just being at the ballpark.  When you listen to him, you can feel the joy he gets just watching baseball.
Sadly, with the contractual structure of the modern playoffs, even if the Dodgers reach the World Series before he retires, Vin Scully will probably not be announcing.  FOX has locked up coverage of the World Series through 2021.  Angelic as Scully's voice may be, he'll be 93 when that contract expires.  As much as everyone would want to hear Vin Scully announce the Dodgers in a World Series, especially over Joe Buck and Tim McCarver's pompous blathering and incorrect analysis (curveballs curve, Tim, they curve), Major League Baseball cares a lot more about money than what the American people want.
What we would most assuredly get is a guest visit from Scully while Buck and McCarver are on the air.  This would be a shame.  For everything he has given us and the baseball world, seeing him take a back seat to Buck and McCarver with the Dodgers on the game's biggest stage would be embarrassing.  I hope it isn't forced upon him, but sadly, a Vin Scully visit to the booth would boost ratings.  Ratings mean money, and both FOX and MLB love that.  So mark my words, if the Dodgers make the World Series, true fans will have to watch as the greatest broadcaster in baseball history–nay, sports history–kowtows to the corporate demigods.
There is no chance we would get to hear Scully for the whole World Series.  But perhaps if Tim McCarver and Joe Buck both agreed to abdicate the booth for one game…?  This would be commendable, and would most likely boost FOX's ratings, but very little of me feels like McCarver and Buck would agree to it (especially McCarver, who must look forward to announcing these games for 10 months).  Scully would outshine them on the national stage, and deep down inside, they surely know it.
If Vin Scully announces a Dodgers' World Series game, America wins.  The only people who lose are Joe Buck and Tim McCarver.
-Parker Werline  (an Off The Bench correspondent)
Stat of the Day:  Only 44.1% of the world's population has the right to vote.  Election Day is tomorrow.