A Baseball Nut's First Pilgrimage To Cooperstown
Updated: November 12, 2012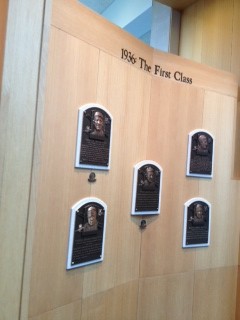 We just went to Cooperstown, NY, home of the National Baseball Hall of Fame and it was awesome.  Absolutely awesome.  It's impossible to describe how interesting, how historic, and just how damn cool the whole experience is.  If you have never been, you need to go.  If you haven't been in a while, it's time you go back.  If you went just last year, well, there are starving children in India who can't go, so go for one of them.  It is plain and simple: Cooperstown is as central to baseball as apple pie is to America.  The small town manages to exude the essence of the baseball universe in little more than a square mile.
The Hall of Fame Gallery, surprisingly small, yet undeniably grandiose, is home to the bronze plaques that immortalize the greatest figures of baseball history. It was erected in 1958, and looks exactly the same as it did on that day. The black marble pillars reflect the bronze faced plaques of everyone from Roberto Clemente to Connie Mack to the recently deceased Lee MacPhail.  The unfamiliarity of names like Tristram E. Speaker and Edward C. Ford is soon replaced by fascination, as the legends of Tris and Whitey are immortalized in the text beneath their image.  Juxtaposing Warren Giles with Willie Mays may seem nonsensical, but the Hall cares little about order: these 297 were the best that baseball ever had.
At its center stage, the Hall keeps its first induction class, a collection of players familiar to all but the most painfully unindoctrinated:  Babe Ruth, Ty Cobb, Honus Wagner, Walter Johnson, and Christy Mathewson.  This wall serves as the centerpiece to a historic baseball collection that is almost comedic in its depth and variety, both within the physical confines of the Hall and scattered throughout the B&Bs, shops, and restaurants of Cooperstown.
There are two ways into the small town.  Both are two-laned country roads that require more than a little driving confidence.  The first, upon which we made our triumphal entrance, has more cows and dairy farms per square mile than I, a boy raised in Tennessee, thought possible.  The other, along route 20, has chickens in yards without fences and runs along a great lake that would make a lovely summer home for anyone interested in a season's pass to the Hall.  Everything in Cooperstown closes at 5, and the liquor store doesn't have a name.  The two bars (there are two and only two) are across the street from one another and the flagpole serves as the marquee landmark for anyone driving, walking, or riding their horse.  It is, quite simply, in middle-of-nowhere upstate New York, but that's the magic of it.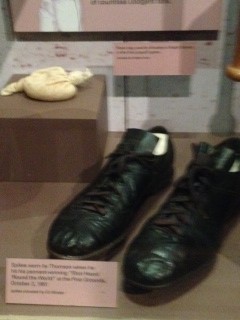 The Cooperstown Motel is owned by Al O'Brien.  He's a man you need to meet and it's a place you need to stay.  Al is 82 and met Babe Ruth when he was 8.  It's hard to say how long the O'Briens have owned the Cooperstown Motel, but it's clear Al has been around since Cooperstown became Baseball Mecca.  He's got artifacts in his reception area that are as neat as some of those in the Hall.  There's a framed copy of the letter that a Hall representative sent Walt Dropo requesting that Mr. Dropo sign the baseball the he clubbed for his 12th consecutive hit in 1952.  Mr. O'Brien has a picture of George Herman Ruth–in football pads standing next to Knute Rockne, the Notre Dame head football coach–before he became The Sultan of Swat.  In his small, cash hotel, Mr. O'Brien claims that 45 Hall of Famers laid their heads just this past summer.  Carl Yastremski signed a bat for him, but that's second fiddle for Al: "I shook Babe Ruth's hand.  Everyone else is just interesting."
Interesting is not the right word for the collection inside the Hall.  There is no "right word."  They've got Yogi Berra's 1951 MVP trophy, the 1996 World Series trophy, and Armondo Gallaraga's cleat that did not touch first base.  They've got the bat that Rod Carew used to collect his 2,999th hit in the same box as the bat that Ernie Banks used to mash his 500th home run.  They've got Bobby Thompson's cleats from "The Shot Heard 'Round the World" as well as the rosin bag from that same game.  They've got every World Series ring from every World Series.  They've got the bat and ball from Babe Ruth's last career home run, as well as the bat for his called shot.  They've got Christy Mathewson's checkers set.  Everything you could ever want to see is there.  And it's all right there; the building isn't that big.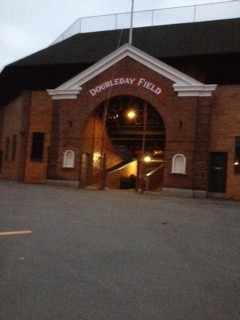 Doubleday Field is just around the corner.  Don't tell the cops but I stood in centerfield at dusk.
The buildings that surround the Hall are full of memorabilia, shirts, and hats.  They're tastefully done and nothing disrupts the small town vibe.  The stores are packed, cluttered and full of everything baseball.  Doors are signed by the likes of Orlando Cepeda and Whitey Ford.  The collections of baseball stuff is too awesome.  It's all for sale, but it's impossible to fall in love with any one item.
I could keep going, but trying to capture the essence of Cooperstown, and in a larger sense the community of baseball, just can't be done.  It's like the walk-off grand slam, down by three with two out, combined with some strange sensation of seeing Babe Ruth swat a ball farther than any other human could imagine.  Cooperstown is baseball.  It won't be understood by those who don't want to understand, and it isn't a trip to take if you're looking for too much action.  But it is a trip necessary for introspection and for appreciation of baseball's self-understanding.  Maintaining the integrity of the game, of the players, and of the legends has a renewed meaning.
If you haven't been, go.  Go now.
Stat of the Day: Three out of three people polled agreed that Todd Coffey is an idiot