Fast Reactions: Blue Jays-Marlins Mega (Lopsided) Deal
Updated: November 13, 2012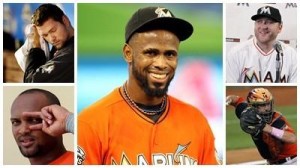 There is so much to say about this trade between the Miami Marlins and Toronto Blue Jays that it most certainly warrants multiple posts. However, I do not have the time for all that tonight so instead I'm going to go through some brief thoughts in bullet form:
The Blue Jays are really, really good. Their starting rotation now boasts Josh Johnson, Mark Buehrle, Ricky Romero, and Brandon Morrow to go with a lineup that will look something like: Jose Reyes, Emilio Bonafacio, Jose Bautista, Edwin Encarnacion, Brett Lawrie, Colby Rasmus, and John Buck. Watch out.
The AL East is now the NL East, with more money. The Blue Jays, Yankees, Rays, Orioles, and Red Sox are now all competitive teams. Boston and New York are always near the top in terms of payroll and usually vie for the division lead, but the O's won more than 90 games and were the Wild Card winner last year, the Rays were in the thick of the Wild Card hunt and also won 90 games, and, well, just look at the new-look Jays.
Why would any free agent ever sign with the Marlins ever again? Miami made some mega deals last winter, signing Reyes, Buehrle, and Heath Bell. They had a core to build around between those guys, Johnson, and Hanley Ramirez. By July, they'd traded Ramirez and given up on the season and by November, everyone they just signed was gone. Why would anyone want to play for a team that clearly isn't committed to winning and gives up so easily? Why would anyone want to play for a team that trades them from the city they signed up for to someplace else within a year. Look at this from Jose Reyes' perpective, he signed to play in Miami and now he has to live in Toronto. I'm sure he's thrilled.
The MLB should force Jeffery Loria to sell. This is becoming a joke. The franchise is a laughing stock owned by a man who won't spend any money and when he does finally spend a little goes back to his old cheapskate ways within a calender year. He is doing a disservice to the fans and players of the Miami organization. He is now very clearly the worst owner in baseball and a disgrace. How long can he live off of 1997 and 2003 as "proof" that his plan of going into the seaosn with no talent and a tiny payroll works? He got off easy for the scandal last season where he was accused of pocketing luxury tax money rather than using it on his team.
Despite arguably being the top domestic talent producer, professional baseball apparently isn't viable in Florida. The Rays and Marlins can't draw any fans even when they have exciting and competitive teams. They deserve better.
Stat of the Day: the Marlins opened 2012 with a roughly $100 million payroll.  It now sits around $16 million.