Atlanta Braves Get Gerald Laird
Updated: November 15, 2012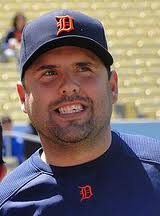 The Atlanta Braves have agreed to terms with free agent catcher Gerald Laird.  Laird, 33, seems a good fit for the Braves, a team in need of a starting catcher for about a month before All-Star Brian McCann returns from shoulder surgery.  The veteran catcher just finished up a year with the American League Champion Detroit Tigers and despite the fact that his name conjures images of Wilford Brimley on horseback, the guy is a suitable Major League backup capable of handling some of the catching duties in that first month of the season.
The Braves catching plans were shuffled last week as longtime backup and major clubhouse presence David Ross doubled his salary at age 36 and signed with Boston.  I'm a huge David Ross fan, and think that he will do wonders in Boston through his demeanor, hard work, and management style.  He's a guy that could manage one day and that he started for the Braves in their one-game playoff speaks volumes to his ability. (His home run in that game does too.)  Additionally, Braves top catching prospect Christian Bethancourt has yet to prove that he can do anything with the bat in his hands, and exposing him to a month's worth of Major League catching duties might have done more harm than good.  I wouldn't be surprised to see Bethancourt get some significant playing time in the early weeks before McCann returns from injury, but without Ross, a stable veteran was entirely necessary.
Still, there's something to be said for rolling the dice on a young kid rather than handing the catching reigns over to a old(ish) man who does very little to excite anyone.
Braves fans who think that Gerald Laird will be able to step in and replace David Ross's production are sadly mistaken.  Laird has never hit more home runs than Ross did last year (9) and that includes seasons in which he played 120, and 135 games.  Last season was Laird's best year in a while, and his .710 OPS was bested by Ross in seven of the past eight seasons.  Simply put, Laird is no David Ross and their respective salaries for 2013 reflect that.  Given the Braves payroll limitations, they can't afford a $6 million backup catcher, but they instead went out and got what they could.  Gerald Laird.
The move is certainly nothing to get excited about, but there are worse ways the Braves could have spent the money over the next two years.  Just ask Derek Lowe and Jair Jurrjens about getting their paychecks from the Braves in 2012.  Or Kenshin Kawakami in 2011.
Stat of the Day:  The Braves paying Kenshin Kawakami $6.67 million in 2011 to play for the Gwinnett Braves sounds bad.  The Mets paying Jason Bay $21 Million to go away sounds worse.  The Mets paying Bobby Bonilla $1,193,248.20 each June 1st for the next 24 years sounds worst.