Off The Bench in Our Own Words
Updated: November 21, 2012
Sean and Max were recently interviewed on the radio. We think it came out really well.
Give it a listen: Off The Bench Radio Interview
Special thanks to our interviewer Kyle Casey.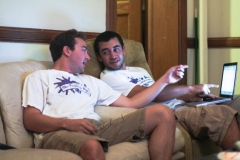 I've had the good fortune of knowing Misty Anderson for most of...

The AL West has done a pretty good job of defying prediction...

In previous years, Off The Bench has run its extremely popular "30...
On a radio interview on New York's WFAN radio yesterday, Yankees' General...

Managers don't throw a single pitch. They don't take a single grounder,...

Welcome fellow baseball junkies! In this blog, two college baseball players will...