Off The Bench in Our Own Words
Updated: November 21, 2012
Sean and Max were recently interviewed on the radio. We think it came out really well.
Give it a listen: Off The Bench Radio Interview
Special thanks to our interviewer Kyle Casey.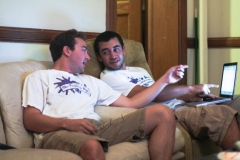 Early this offseason Cincinnati Reds second baseman Brandon Phillips found his name...

Lost (perhaps on purpose) in the media storm around the Robinson Cano...
On a radio interview on New York's WFAN radio yesterday, Yankees' General...

Managers don't throw a single pitch. They don't take a single grounder,...

Welcome fellow baseball junkies! In this blog, two college baseball players will...