Shaun Marcum: Jewel Of Free Agent Class, Good Fit For Royals, Yankees, Angels, Red Sox, Orioles, Tigers And Others
Updated: November 23, 2012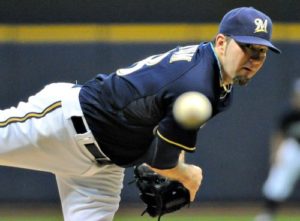 Did you know Shaun Marcum was a free agent? When I realized he was, I also realized that people aren't making a big enough deal about his potential landing spot. Shaun Marcum has the repertoire to be a big time starting pitcher and while there are significant red flags–including his injury history and postseason numbers–Marcum's regular season successes should appeal to a whole host of teams looking for rotation help.
Marcum has always had great stuff. In fact, he's generally been able to translate that stuff into pretty good success in the major leagues too. Over his career, Marcum has a 3.76 ERA and a 1.22 WHIP. Those number look even better when you take away his rookie season. Since then, he's 54-32 with a 3.67 ERA, 1.18 WHIP, and 2.82 K/ BB ratio. He's been a "big pickup" before. It was a big deal when the Brewers landed Marcum from the Blue Jays before the 2011 season, the year they decided to go for it all.
The story is more complicated than numbers though. Marcum missed all of 2009 after having Tommy John surgery, but has come back strong since. Following the surgery, Marcum posted ERAs of 3.64, 3.54, 3.70. He pitched around 200 innings the two seasons after his return, but injury issues resurfaced in 2012. He started strong, hit the DL, and performed below expectations during the stretch run.
That's kind of a big issue with Shaun. He has always been at his worst when it matters most. In 2011, when the Brewers were counting on him, he was bad in the last month of the regular season and then worse in the playoffs, posting an 0-2 record with a whopping 16.20 ERA. This could be a major issue should a contender be interested in signing him.
Injury and late season performance issue notwithstanding, I think Shaun Marcum is a great free agent option. He's a good, proven pitcher with major upside. If he reaches his potential he could turn into a legitimate number two or an excellent number three starter in the right rotation. I've heard him valued at about $8 or $10 million over a single year, and I wouldn't be upset if that's the type of contract he ended up with.  However, if I were a GM for the right team, I'd be willing to take a risk on Marcum and give him a Jeremy Guthrie-type three year, $20 or so million deal.
So which is the right team? Let's take a look at a couple: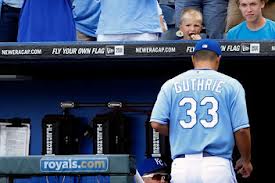 Kansas City Royals: The Royals feel that they are a starting rotation away from being serious contenders in the AL Central. They have a strong lineup and deep bullpen. Marcum would be a solid addition without having to trade any of their prized position players. KC has already added Ervin Santana and Jeremy Guthrie and while Mr. Marcum wouldn't be the Ace I think that they need, he would prove to be reasonably priced starter who could eat a lot of innings.  His typically strong ERA could earn him a whole bunch of wins if the team can hit like they think it can. Marcum would be the best of the three Dayton Moore offseason acquisitions while making the additions of Santana and Gutherie look that much better.
New York Yankees: The Yankees just got Hiroki Kuroda back for next season to join CC Sabathia. They'll likely get Andy Pettitte back as well and Phil Hughes is still there. For New York, the fifth starter right now is either Ivan Nova or Michael Pineda if he's healthy. Long term, the outlook for New York changes as Pineda is supposed to be the number two and Pettitte and Kuroda will be long gone. Short term however, it would be nice to have a guy to bump Hughes down, and Nova out, of the rotation.  (Or at least give Joe Girardi the option of playing the hot hand.)  Though Marcum would not solve the Yankees' post season pitching problem, he would give them a reliable, AL East-tested starter. This becomes especially important if, as I've been hearing, the Bombers are trying to limit Pettitte's innings to 150 and if Pineda is not healthy for a while.
Los Angeles Angels: Right now, the Angels rotation consistes of CJ Wilson, Jered Weaver, and Jerome Williams. They are trying to resign Zack Grienke, but they have a ton of competition for his services. Either way, Marcum could be a valuable piece as a back of the rotation starter that would allow them to avoid relying on Clayton Richard all season.
Baltimore Orioles: The Orioles are looking for more rotation depth to go along with Wei-Yin Chen and, hopefully, Joe Saunders. There are a lot of options for the O's in their rotation but none as strong as Marcum would be. He would be a good, lowish cost, short term option.
Boston Red Sox: This one is a stretch for a variety of reasons but they can use all the help they can get.
Detroit Tigers: Exit Anibal Sanchez, enter somebody. Why not Marcum?
As you can see, there are a whole variety of  Shaun Marcum destinations–even more than what I've listed, including some National League teams. Stay tuned to see where he eventually signs.