B.J. Upton Agrees To Terms With The Atlanta Braves
Updated: November 28, 2012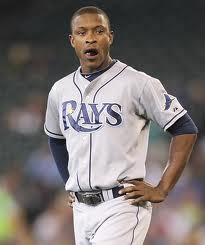 The Atlanta Braves had a hole in center field and they just filled it.  For the next five years–and $75 million–one of the more physically talented baseball players in the game, BJ Upton, will occupy the premium outfield spot at Turner Field.  This is an important commitment out of the Braves front office and a big deal in the life of the Upton family.  I'm sure Evan Longoria will be the first to congratulate his former teammate on making it big, as it was Longoria who just reminded us how important the guaranteed money is when he signed his extension earlier this week.
Upton was handicapped to be the first piece to fall in the free agent center field market and it appears as if the prediction has come true.  It was reported around 5 pm that Upton was in serious talks with the Braves on a multi-year deal and we can safely assume these reports are true as Upton quickly moved to change his twitter picture.  But, let's get into the nuts and bolts of the deal.
First, who is BJ Upton?  The short answer is: an impossible talent, impossible to figure out.  He busted onto the scene at age 22 in 2007 posting a .300 average, 24 homeruns, and .386 OBP.  He has yet to match that average or on-base in the five seasons since, but bested the homerun total last year with 28.  What makes Upton so unique is his combination of speed and power.  He's a legitimate shot to go 30/30 every year and provides solid-above average defense in center field.  He's never been an All-Star, but the talent to be a superstar is evident when you watch him play.  Put simply, BJ Upton is an enigma capable of being an absolute superstar, but consistently strikes out too much and doesn't get on base enough to let his physical skills manifest to their fullest.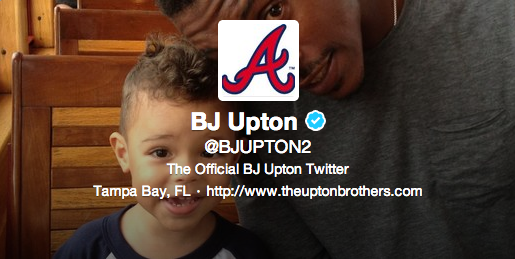 As for how he fits in with the Braves, manager Fredi Gonzalez figures to slot him into center field and the leadoff spot.  That leadoff spot may prove a revolving door over the course of the five  year deal if Upton refuses to cut down his swings and repeats his .298 OBP from 2012. He's coming in to replace the now-surely departed free agent Michael Bourn.  Bourn played well for the Braves over two years but lacks the power of Upton and figures to price himself out of Atlanta.  (Additionally, as a guy who follows the Braves pretty closely, it never felt like Bourn fit with the Braves.  He was too professional, too uptight, and too quiet.  He played with a quiet anger that didn't flow with how the South works.  Just an observation.)  If Upton continues to be better suited lower in the order thanks to his poor OBP, other options may be Andrelton Simmons, Martin Prado, or a high-OBP guy that they are likely to bring in to play left.  Those options are a whole lot less appetizing than BJ Upton doing what he's capable of atop a lineup.
As for the money, it seems to make sense.  The sabermetricians say that free agents should be paid about $5 million per WAR.  Upton has accumulated 13.6 WAR over his six full seasons.  That makes $75 million a slight overpay, but Upton has a unique upside.  Few players his age have more potential growth, and the intrigue has roped in the Braves front office.  The deal isn't too long either, taking Upton through his age 33 season, through which he should maintain his physical skills.
I know Braves fans are excited to watch Upton change scenery. The baseball world has to at least be intrigued by the possibility of this lineup:
BJ Upton (CF)
Martin Prado (3B)
Jason Heyward (RF)
Freddie Freeman (1B)
Dan Uggla (2B)
Brian McCann (C)
????? ?????? (LF)
Andrelton Simmons (SS)
Stat of the Day: Randy Johnson once went 10 consecutive years without giving up a sac fly to a left handed hitter.