Nationals Acquire Denard Span, Look Pretty Damn Good
Updated: November 29, 2012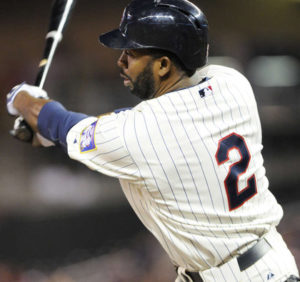 After years of trying to get Denard Span off the Twins, the Nationals have finally got their man. My first thoughts:
Span give the Nats a legitimate leadoff hitter and lets them put Jayson Werth lower in the lineup.
He finally gives them a real centerfielder. This will allow them to move Bryce Harper to left where he belongs, producing an outfield of Harper-Span-Werth that rivals any in the game.
With Harper in left, Michael Morse can move to first base full time. This, in my opinion, greatly lowers the chances that the Nats make a big play on free agent first basemen Adam LaRoche.
The Nats ran away with the East and finished with the best record in the NL without a real centerfielder and now they have one. This makes them very  scarey for years to come.
The Nationals projected lineup:
Denard Span (CF)
Bryce Harper (Lf)
Ryan Zimmerman (3b)
Michael Morse (1b)
Jayson Werth (Rf)
Ian Desmond (ss)
Wilson Ramos (C)
Danny Espinosa (2b) (soon to be Anthony Rendon with any luck)
At this point, with the stellar pitching staff they have, this new linuep, and the experiance they gained last year, I can't see how the Nats aren't the favorites to win the NL East and probably the NL as a whole.
I think I'm getting ahead of myself here, but this is undoubtedly a great move a long time coming.