Good Catch: Red Sox Sign Mike Napoli For The Right Price
Updated: December 3, 2012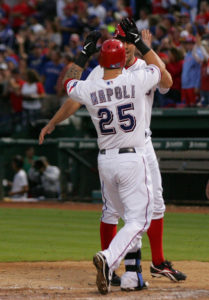 The Boston Red Sox website reports that Mike Napoli and the Sox have agreed to a three- year, $39 million contract. Red Sox fans everywhere should breath a sigh of relief, take a moment, and venture a smile–this is a good sign for the Boston.
Gone, it appears, are the days of the overpay and the extra year. Napoli was pushing hard for a fourth (by some reports fifth) year on his new deal, and Texas wouldn't give it to him. In years past, he would have gotten it from Boston. The reality is that Mike Napoli is a powerful, durable, .240 hitting catcher/first baseman. He's 31 years old and has just received a very appropriate contract. As it stands now, Nap will be seeing a lot more time at first than behind the plate, and his power should certainly hold through his age 34 season. With David Ortiz functioning as an example, the new Sox front office has shown that rather than dole out up-front years, production will be rewarded with extension. If Napoli hits, he'll likely stay around for more than this 3-year deal.
The best part of this deal for Boston fans is the precedent it sets. Many who followed the team were awaiting some signal as to the directon things were going to take; specifically, were the Sox going to pander to the Pink Hats (bandwagon, luxury box fans) and make an ill-advised signing to "try and win now," or were they going to build the ship right. The Napoli signing is somewhere in the middle, but it certainly leans toward the build it right end of things. Napoli addresses a pressing need in an affordable manner. Depending on further signings, he'll slot into the five hole behind Ortiz. (There has to be some legitimate concern as to the strikeout-prone, rally-killing potential that is Ortiz-Napoli-Saltalamacchia in the four-five-six, but that is sure to be addressed with some additional pieces.)
Let me be clear: this is by no means the answer to the Red Sox season. If they field this team, with this staff, in this division, they will find themselves squarely in last place, again. But the Napoli signing is indicative of an attitude shift. It demonstrates a savvy in the operations department that hasn't been seen for a few years. GM Ben Cherrington has said the payroll will continue to rise, so fans will still have things to hope–and fear–as the Winter Meetings progress, but for now they can enjoy something they haven't had in a while: a good player at a good price.