The Seattle Mariners: Offseason Blueprint
Updated: December 3, 2012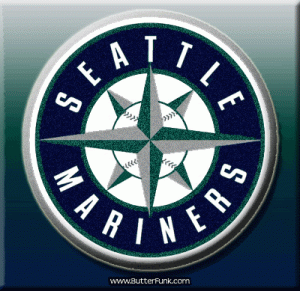 As the resident Mariner's expert at Off the Bench, I've been given the opportunity to tell the world what is happening up here in the beautiful Pacific Northwest (besides Macklemore's rapid rise to relevancy and all the rain and none of the snow).
So far its been quiet this offseason. There have been rumors about bigger dealings, but none have come to fruition. The Mariners have made a few small moves, remaining for the most part below the radar, but while those moves haven't shaken the baseball world, they've changed the look of the Mariners for the future.
Let's start with the proverbial garbage dump. Seattle has DFA'd Chone Figgins, a huge free agent signing a few years ago that blew up in their face, finally severing the ball n' chain that's been dragging them down (.188 BA in 2011, .181 in 2012, $18.5 mil over that span) for two years. They have also traded Trayvon Robinson for Robert Andino, officially wrapping up the Munenori Kawasaki era in Seattle. It was fun but not helpful. The Mariners also resigned Oliver Perez and Hisashi Iwakuma, which brings back to solid pitchers to the team, one in the bullpen and one in the rotation.
They are also rumored to be willing to  increase payroll from last season's roughly $82 million.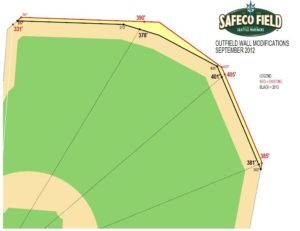 The biggest thing that has happened this offseason for the Mariners is that they have started to make $15 million worth of upgrades to Safeco Field. Next season, one of the biggest pitcher friendly parks in baseball will move its fences in. From right center field all the way to the left field foul pole, the fences will creep inward by anywhere from four to 17 feet. In addition to the fences, the Mariners are also putting in the largest screen in all of baseball; it will rival the monstrosity in Cowboys Stadium.
With all that said let's look where the Mariner's lineup stands right now.
C: John Jaso/Jesus Montero
1b: Justin Smoak
2b: Dustin Ackley
SS: Brendan Ryan
3b: Kyle Seager
LF: Michael Saunders
CF: Franklin Gutierrez
RF: Casper Wells
DH: Some combination of Montero, Jaso, and Mike Carp
Bench: INF Robert Andino, OF Eric Thames, OF Carlos Peguero, 1b/3b Alex Liddi
Starting rotation:Felix Hernandez, Jason Vargas, Hisashi Iwakuma, Blake Beavan, Erasmo Ramirez.
Bullpen: I'm not going to waste my time on the bullpen, it'll change too much before the season and basically every reliever is replaceable, especially closers.
There are some clear deficiencies in the Mariners' lineup and at the back end of the rotation, but they have some talent in the minor leagues that can help them out sooner rather than later. At this point there are four starting pitchers who are within a year or two of making the majors, Taijuan Walker, James Paxton, Danny Hultzen, and Brandon Maurer. They additionally have two soon-to-be Major league position players in shortstop Nick Franklin and catcher Mike Zunino. However those guys are not sure things; they are still prospects and are most likely not going to start the season with the big club.
So Seattle currently has Ackley, Saunders, and Gutierrez, with guaranteed positions and spots in the lineup. Jaso/Montero will take up a good portion of the catching/DH workload, and four pitchers look to have a great shot at throwing to them every fifth day. The Mariners are okay with Brendan Ryan at SS for the time being but will be looking for Franklin to come up and be the guy in the next year or two.
So, we know where the Mariners stand but where will they be headed? They way this lineup looks, Seattle will be looking for some short term options at the back end of the rotation, C, and DH, and a long term impact player in the outfield and/or first base. There are talks of Montero learning to play first, but he is a ways off, so a power bat that can scoop it–or at least DH–is a major component of the offseason plan. Someone like Travis Hafner fits the profile. He should be available for a one or two year deal, and for pretty cheap. He also has Northwest ties, always a benefit for the Mariners, and he would be a short term bump without creating a long term barrier for Montero to switch to first when Zunino joins the big club.
With the rotation, the Mariners are looking for the same short term option: a one or two year contract for around $5 million a year; someone who can help now, but won't cause a logjam when the young guys are deemed ready. Someone like Kyle Lohse would be ideal, but the feeling is he will demand more years and dollars than Seattle wants to part with.  Brandon McCarthy might be more realistic.
The smaller moves so far have given the Seattle financial leeway. With payroll increases rumored, the Mariners have been linked to some of the bigtime power free agents on the this year's market. If it plays out, the big move will most likely be for an outfielder and could be upwards of $100 million and five to seven years. So far, Josh Hamilton and Nick Swisher have been mentioned as possible signings. Of course, Hamilton and Swisher are risky and a bit old for their desired contracts, but the Mariners would love to have either of them. Justin Upton's name has come up in trade-and-extend scenarios, and he would be a great pickup. The catch is the package. In order to get him, the Mariners would have to give up at least one of their big young arms, maybe even two, and some other prospects. If I had my choice I would go with Swisher, if they can deflate his $100 million dollar head.
If the big name outfielders prove to force an unacceptably large payroll increase, the Mariners will most likely seek out a short term power option instead. Possibilities via trade are former Mariners Shin Soo-Choo and Michael Morse, from the Indians and Nationals respectively. There are also other options like Jason Kubel and Luke Scott. Obviously these players are a little less glamorous but each would be a great platoon option with Casper Wells, and any of them can fulfill the hybrid 1B/DH platoon.
The Mariners have a blueprint and will try to execute it, but don't be surprised if something completely unexpected happens. Jack Zduriencik is always looking for a deal–like Montero for Pineda a year ago–and won't hesitate to pull the trigger. Felix Hernandez, however, will not be on the end of that trigger. You will hear rumors, and you may get excited, but he is not on the shopping block. Both Hernandez and Zduriencik have said so publicly, many times. If you hear any such rumors, you may safely ignore them, and attribute their existence to the overzealous imaginations of Yankee or Red Sox fans who also happen to write things on baseball.
-David Ringold
@dhringold
Stat of the Day: Felix is ours and you can't have him.